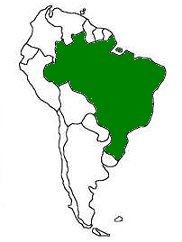 Geography >> South America >> Brazil History and Timeline
Brazil
Capital: Brasilia

Population: 211,049,527
The Geography of Brazil
Borders: Argentina, Bolivia, Colombia, French Guiana, Guyana, Paraguay, Peru, Suriname, Uruguay, Venezuela, and the Atlantic Ocean.

Total Size: 8,511,965 square km

Size Comparison: slightly smaller than the US

Geographical Coordinates: 10 00 S, 55 00 W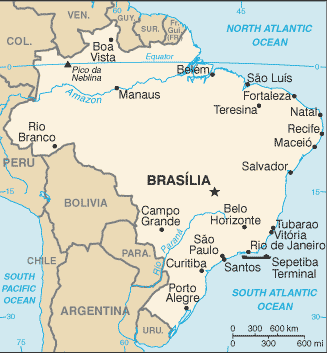 World Region or Continent: South America

General Terrain: mostly flat to rolling lowlands in north; some plains, hills, mountains, and narrow coastal belt

Geographical Low Point: Atlantic Ocean 0 m

Geographical High Point: Pico da Neblina 3,014 m

Climate: mostly tropical, but temperate in south

Major Cities: Sao Paulo 19.96 million; Rio de Janeiro 11.836 million; Belo Horizonte 5.736 million; Porto Alegre 4.034 million; BRASILIA (capital) 3.789 million

Major Landforms: Tropical rainforest of the Amazon Basin, the Pantanal freshwater wetland, Guiana Highlands, Brazilian Highlands of small mountain ranges, and the Mato Grosso Plateau

Major Bodies of Water: Amazon River, Rio de la Plata, Paraguay River, Parana River, Sao Francisco River, Sobradinho Lake, Tucurui Lake, Balbina Lake, Furnas Lake, Duck Lagoon, Atlantic Ocean

Famous Places: Christ the Redeemer, Sao Paulo, Copacabana Beach, Sugarloaf Mountain, Ipanema Beach, Fernando de Noronha, Carnival in Rio, Amazon Rainforest
Economy of Brazil
Major Industries: textiles, shoes, chemicals, cement, lumber, iron ore, tin, steel, aircraft, motor vehicles and parts, other machinery and equipment

Agricultural Products: coffee, soybeans, wheat, rice, corn, sugarcane, cocoa, citrus; beef

Natural Resources: bauxite, gold, iron ore, manganese, nickel, phosphates, platinum, tin, uranium, petroleum, hydropower, timber

Major Exports: transport equipment, iron ore, soybeans, footwear, coffee, autos

Major Imports: machinery, electrical and transport equipment, chemical products, oil

Currency: real (BRL)

National GDP: $2,294,000,000,000
Government of Brazil
Type of Government: federative republic

Independence: 7 September 1822 (from Portugal)

Divisions: Brazil is divided up into 26 states. The capital city, Brasilia, is a separate federal district.

National Anthem or Song: Hino Nacional Brasileiro (Brazilian National Anthem)

National Symbols:
Animal - Jaguar
Bird - Macaw, Rufous-bellied Thrush
Flower - Ipe-amarelo
Tree - Pau-brazil (also called Brazilwood)
Coat of Arms - Blue center with 27 stars, a yellow and green star, surrounded by coffee and tobacco leaves
Colors - Green and yellow
Motto - Ordem E Progresso ('order and progress')
Carnival - Celebrated in February before Ash Wednesday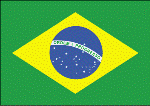 Description of flag: The flag of Brazil was adopted on November 19, 1889. It has a green background with a yellow rhombus (sideways diamond). In the center is a dark blue circle with 27 stars depicting the sky over Rio de Janeiro. In a banner across the blue circle is the motto 'Ordem E Progresso.' The 27 stars represent the 26 states and the federal district of Brasilia.

National Holiday: Independence Day, 7 September (1822)

Other Holidays: New Years' Eve (January 1), Carnival, Tiradentes' Day (April 21), Labour Day (May 1), Independence Day (September 11), Our Lady of Aparecida (October 12), All Souls' Day (November 2), Republic Day (November 15), Christmas (December 25)
The People of Brazil
Languages Spoken: Portuguese (official), Spanish, English, French

Nationality: Brazilian(s)

Religions: Roman Catholic (nominal) 73.6%, Protestant 15.4%, Spiritualist 1.3%, Bantu/voodoo 0.3%, other 1.8%, unspecified 0.2%, none 7.4% (2000 census)

Origin of the name Brazil: The name 'Brazil' comes from the name for the brazilwood tree that the region was famous for early in its history. The word 'brazil' means 'red like an ember' in Portuguese and was used to describe this unique wood. The original name for the country was 'Terra da Santa Cruz' which means 'Land of the Holy Cross.'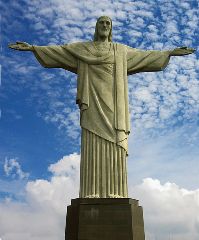 Famous People:
Jorge Amado - Author
Rubens Barrichello - Race car driver
Gisele Bundchen - Model
Francisco Costa - Fashion designer
Carmen Miranda - Singer
Neymar - Soccer player
Oscar Niemeyer - Architect
Pedro II - Emperor
Pele - Soccer player
Ayrton Senna - Race car driver
Anderson Silva - MMA fighter
Lula da Silva - World leader and president
Ronaldo - Soccer player


Geography >> South America >> Brazil History and Timeline


** Source for population (2019 est.) is United Nations. GDP (2011 est.) is CIA World Factbook.