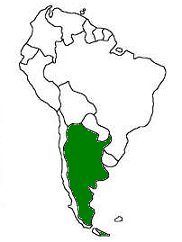 Geography >> South America >> Argentina History and Timeline
Argentina
Capital: Buenos Aires

Population: 44,780,677
The Geography of Argentina
Borders: Chile, Paraguay, Brazil, Bolivia, Uruguay, Atlantic Ocean

Total Size: 2,766,890 square km

Size Comparison: slightly less than three-tenths the size of the US

Geographical Coordinates: 34 00 S, 64 00 W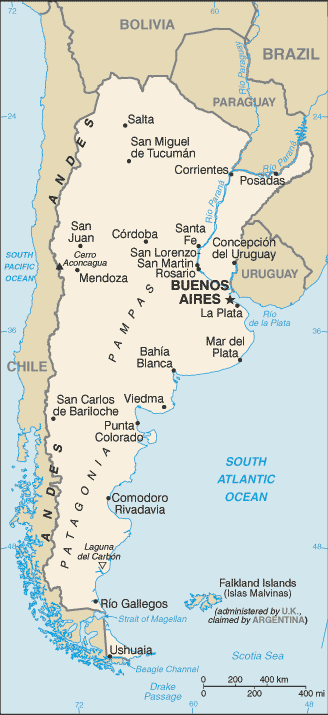 World Region or Continent: South America

General Terrain: rich plains of the Pampas in northern half, flat to rolling plateau of Patagonia in south, rugged Andes along western border

Geographical Low Point: Laguna del Carbon -105 m (located between Puerto San Julian and Comandante Luis Piedra Buena in the province of Santa Cruz

Geographical High Point: Cerro Aconcagua 6,960 m (located in the northwestern corner of the province of Mendoza)

Climate: mostly temperate; arid in southeast; subantarctic in southwest

Major Cities: BUENOS AIRES (capital) 12.988 million; Cordoba 1.493 million; Rosario 1.231 million; Mendoza 917,000; San Miguel de Tucuman 831,000 (2009)

Major Landforms: Andes Mountains, Aconcagua Mountain, Monte Fitz Roy, Las Lagos Region of glacial lakes, numerous volcanoes, Patagonia region of steppes, Glacier National Park and the Patagonia Ice Cap, the Ibera Wetlands, and the lowland agricultural region of the Pampas.

Major Bodies of Water: Lake Buenos Aires, Lake Argentino, Lake Mar Chiquita (salt lake) in central Argentina, Parana River, Iguazu River, Uruguay River, Paraguay River, Dulce River, La Plata River, Strait of Magellan, San Matias Gulf, and the Atlantic Ocean.

Famous Places: Iguazu Falls, Perito Moreno Glacier, Casa Rosada, Plaza de Mayo, Glacier National Park, La Recoleta Cemetery, La Boca, Obelisco de Buenos Aires, Bariloche city, and the Mendoza wine region.
Economy of Argentina
Major Industries: food processing, motor vehicles, consumer durables, textiles, chemicals and petrochemicals, printing, metallurgy, steel

Agricultural Products: sunflower seeds, lemons, soybeans, grapes, corn, tobacco, peanuts, tea, wheat; livestock

Natural Resources: fertile plains of the pampas, lead, zinc, tin, copper, iron ore, manganese, petroleum, uranium

Major Exports: edible oils, fuels and energy, cereals, feed, motor vehicles

Major Imports: machinery and equipment, motor vehicles, chemicals, metal manufactures, plastics

Currency: Argentine peso (ARS)

National GDP: $716,500,000,000
Government of Argentina
Type of Government: republic

Independence: 9 July 1816 (from Spain)

Divisions: There are 23 provinces of Argentina. The city of Buenos Aires is not part of a province, but is run by the federal government. In alphabetical order the provinces are: Buenos Aires Province, Catamarca, Chaco, Chubut, Cordoba, Corrientes, Entre Rios, Formosa, Jujuy, La Pampa, La Rioja, Mendoza, Misiones, Neuquen, Rio Negro, Salta, San Juan, San Luis, Santa Cruz, Santa Fe, Santiago del Estero, Tierra del Fuego, and Tucuman. The three largest provinces are Buenos Aires Province, Cordoba, and Santa Fe.

National Anthem or Song: Himno Nacional Argentino (Argentine National Anthem)




Sun of May
National Symbols:
Animal - Jaguar
Bird - Andean condor, Hornero
Dance - Tango
Flower - Ceibo flower
Tree - Red Quebracho
Sun of May - This symbol represents the Sun god of the Inca peoples.
Motto - 'In unity and freedom'
Food - Asado and Locro
Colors - Sky blue, white, gold

Description of flag: The flag of Argentina was adopted in 1812. It has three horizontal stripes. The outer two stripes are sky blue and the middle stripe is white. The Sun of May, which is gold, is at the center of the flag. The colors can be thought to represent the sky, the clouds, and the Sun.

National Holiday: Revolution Day, 25 May (1810)

Other Holidays: New Year's Day (January 1), Carnival, Day of Remembrance (March 24), Good Friday, Day of the Veterans (April 2), Independence Day (July 9), Jose de San Martin Day (August 17), Day of Respect (October 8), Christmas Day (December 25).
The People of Argentina
Languages Spoken: Spanish (official), English, Italian, German, French

Nationality: Argentine(s)

Religions: nominally Roman Catholic 92% (less than 20% practicing), Protestant 2%, Jewish 2%, other 4%

Origin of the name Argentina: The name 'Argentina' comes from the Latin word 'argentum' which means silver. The region got the name because of a legend that said there was a large treasure of silver hidden somewhere in the Argentine mountains. At one time the country was known as the United Provinces of the Rio de la Plata.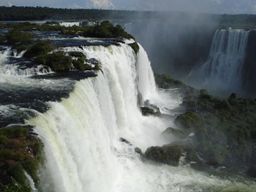 Iguazu Falls
Famous People:
Pope Francis - Religious leader
Manu Ginobili - Basketball Player
Che Guevara - Revolutionary
Olivia Hussey - Actress
Lorenzo Lamas - Actor
Diego Maradona - Soccer Player
Lionel Messi - Soccer Player
Eva Peron - Famous First Lady
Juan Peron - President and leader
Gabriela Sabatini - Tennis Player
Jose de San Martin - World leader and general
Juan Vucetich - Pioneer of fingerprinting


Geography >> South America >> Argentina History and Timeline


** Source for population (2019 est.) is United Nations. GDP (2011 est.) is CIA World Factbook.