The sinking of the Lusitania was an important event in World War I. The death of so many innocent civilians at the hands of the Germans galvanized American support for entering the war, which eventually turned the tide in favor of the Allies.

What was the Lusitania?

The Lusitania was a British luxury cruise ship. At one point in 1907, it held the title as the largest ship in the world. It mostly traveled across the Atlantic Ocean between Britain and the United States carrying passengers and cargo. The ship was 787 feet long and could carry 3,048 passengers and crew.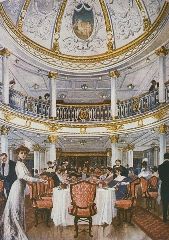 The dining room in the Lusitania
Photo by Unknown