Kids Movies
The Smurfs
MPAA Rating: PG (for some mild rude humor and action)
Director: Raja Gosnell
Release Date: July 29, 2011
Movie Studio: Columbia Pictures

Cast:


Hank Azaria as Gargamel
Katy Perry as Smurfette
Jonathon Winters as Papa Smurf
George Lopez as Grouchy
Neil Patrick Harris as Patrick Winslow
Jayma Mays as Grace Winslow
Sofía Vergara as Odile
Tim Gunn as Henri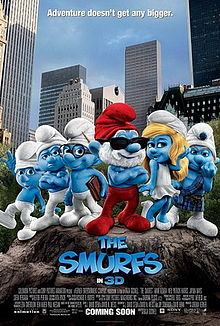 About the movie:

In this 3D movie version of the Smurfs, the Smurfs get kicked out of their world by the evil wizard Gargamel. They end up in our world and in New York City. They have a number of funny adventures trying to find their way back home. All your favorite Smurf characters are in the movie including Papa, Smurfette, Clumsy, Grouchy, Gutsy, and Handy.

Review

Unfortunately we weren't crazy about this movie. First off the animation is pretty cool, but the movie itself was weak at best. We also felt that it was beyond crude considering the Smurfs was a TV cartoon for very young children. There is some really unnecessary content included.



2 of 5 Ducks

Watch the Movie Trailer

We are sorry, the trailer has been removed.



Back to Movies for Kids