Kids Movies
Secretariat
MPAA Rating: PG (brief mild language)
Director: Randall Wallace
Release Date: October 8, 2010
Movie Studio: Walt Disney Pictures

Cast:


Diane Lane as Penny Chenery
John Malkovich as Lucien Laurin
Dylan Walsh as Jack Tweedy
Margo Martindale as Miss Ham
Fred Dalton Thompson as Bull Hancock
Nelsan Ellis as Eddie Sweat
Otto Thorwarth as Ronnie Turcotte
James Cromwell as Ogden Phipps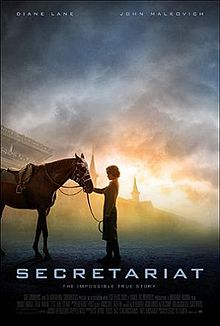 About the movie:

This movie tells the true story of Secretariat, the 1973 Triple Crown winning race horse and perhaps the greatest race horse of all time. The story tells how Housewife Penny Chenery takes her father's stables to the top of racing. With help from trainer Lucien Laurin, Penny's persistence and faith help her to keep going against all odds.

Much of the movie is based on the book Secretariat: The Making of a Champion by William Nack. The movie was largely filmed in Kentucky and Louisiana.

Review

Secretariat is a very inspiring movie with great acting. It isn't so much a kid movie as there aren't a lot of kids in the movie. However, many older kids will enjoy the story and the horse racing. The movie teaches a great lesson of hard work, patience, and determination.



4 of 5 Ducks

Watch the Movie Trailer

We are sorry, the trailer has been removed.



Back to Movies for Kids