Kids Movies
Puss In Boots
MPAA Rating: PG (for some adventure action and mild rude humor)
Director: Chris Miller
Release Date: October 28, 2011
Movie Studio: DreamWorks Animation

Cast:


Antonio Banderas as Puss in Boots (voice)
Salma Hayek as Kitty Softpaws (voice)
Zach Galifianakis as Humpty Dumpty (voice)
Billy Bob Thornton as Jack (voice)
Amy Sedaris as Jill (voice)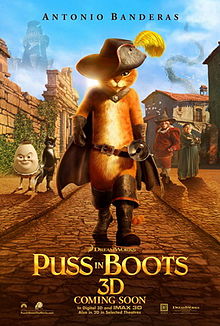 About the movie:

Follow the adventures of the famous Puss In Boots, voiced by Antonio Banderas, from the Shrek movies. In this adventure he plans to steal the goose that lays the golden eggs. He's help along by Humpty Dumpty (Zack Galifianakis) and Kitty Softpaws (Salma Hayek). We expect a movie similar to Shrek with all sorts of interesting characters and adventures.

The story takes place before Puss In Boots met Shrek in the earlier released movies.

Review

This movie was better than we thought. Funny and entertaining. Definitely some rude humor, however.



4 of 5 Ducks

Watch a trailer of the movie:

We are sorry, the trailer has been removed.



Back to Movies for Kids