Kids Movies
Mr. Popper's Penguins
MPAA Rating: PG (mild rude humor and some language)
Director: Mark Waters
Release Date: June 17, 2011
Movie Studio: 20th Century Fox

Cast:


Jim Carrey as Thomas "Tom" Popper
Carla Gugino as Amanda Popper
Madeline Carroll as Janie Popper
Maxwell Perry Cotton as Billy Popper
Angela Lansbury as Selma Van Gundy
Philip Baker Hall as Mr. Franklin
Ophelia Lovibond as Pippi
Dominic Chianese as Mr. Reader
Clark Gregg as Nat Jones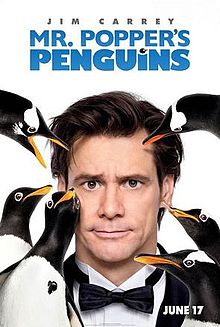 About the movie:

The story follows Mr. Popper, a divorced father of two kids. When Mr. Popper's father passes away, he leaves him a penguin. Soon more penguins show up until there are six penguins living in his apartment. This leads to all sorts of funny situations as he tries to deal with living with penguins. His kids fall in love with the penguins, but there are ups and downs along the way as he tries to decide what to do.

Most of the penguin scenes in the movie were performed by real penguins. They used a refrigerated stage to keep the area cold enough so the penguins would stay healthy. Some scenes were computer animated.

The title and basic idea for the movie comes from a book by the same name by Richard and Florence Atwater. It won the Newberry Honor Book in 1939.

Review

Although this movie was not very well received by many critics, we really liked it. It has a sweet message for kids and has the added bonus of Jim Carey for adults. He is very funny in the film. It is a bit predictable, but we figure the dancing penguins make up for that.



4 of 5 Ducks

Watch the Movie Trailer

We are sorry, the trailer has been removed.



Back to Movies for Kids