Kids Movies
Monte Carlo
MPAA Rating: PG (brief mild language)
Director: Thomas Bezucha
Release Date: July 1, 2011
Movie Studio: Fox 2000 Pictures

Cast:


Selena Gomez as Grace and Cordelia Winthrop Scott
Katie Cassidy as Emma
Leighton Meester as Meg
Cory Monteith as Owen
Andie MacDowell as Pam
Brett Cullen as Robert
Amanda Fairbank-Hynes as Amanda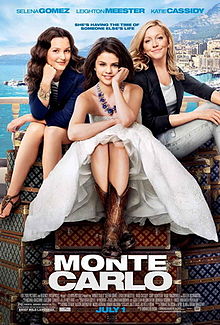 About the movie:

The movie tells the story of three girls on a graduation trip to Paris. Their vacation starts out awful as things go all wrong. However, the trip turns around when one of the girls Grace (played by Selena Gomez) is mistaken for a wealthy heiress. She assumes the role of the heiress and they take a free trip to Monte Carlo. From there they have adventures and romance.

Nicole Kidman was one of the producers for the movie. Selena Gomez' band The Scene perform the song "Who Says" from the film. Selena was nominated for a Teen Choice Award for her performance.

Review

As expected, it's not groundbreaking cinema, but it is a good "Disney Channel" type movie for tweens. It even has a decent message for young girls.



4 of 5 Ducks

Watch the Movie Trailer

We are sorry, the trailer has been removed.



Back to Movies for Kids