Kids Movies
Megamind
MPAA Rating: PG (action and some language)
Director: Tom McGrath
Release Date: November 5, 2010
Movie Studio: Paramount Pictures

Cast:

(voices)
Will Ferrell as Megamind
Brad Pitt as Metro Man
Tina Fey as Roxanne Ritchie
Jonah Hill as Hal Stewart and Titan
David Cross as Minion
Justin Theroux as Megamind's Father
Ben Stiller as Bernard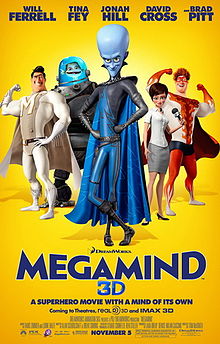 About the movie:

Megamind tells the story of a not-so-evil mastermind alien. He enjoys playing the bad guy fighting against the city's good guy, Metro Man. When Megamind finally defeats Metro Man (or at least thinks he does), he doesn't know what to do with himself. Everything is too easy without an arch nemesis. So he tries to create another superhero and things backfire. The new superhero turns out to be truly evil. During the process Megamind finds he has feelings for reporter Roxanne Ritchie. What will he do?

Lots of action and funny stuff takes place in this movie. The cast is full of big name Hollywood stars and the director, Tom McGrath, also worked on Madagascar and Space Jam.

Review

This movie is entertaining and fun. We nearly gave it 5 Ducks.



4 of 5 Ducks

Watch the Movie Trailer

We are sorry, the trailer has been removed.



Back to Movies for Kids