Kids Movies
Lemonade Mouth
MPAA Rating: TV-G
Director: Patricia Riggen
Release Date: April 15, 2011
Movie Studio: Disney Channel Movies

Cast:


Bridgit Mendler as Olivia White
Adam Hicks as Wen Gifford
Naomi Scott as Mo Banjaree
Hayley Kiyoko as Stella Yamada
Blake Michael as Charlie Delgado
Chris Brochu as Ray Beech
Nick Roux as Scott Pickett
Tisha Campbell-Martin as Miss Jenny Reznick
Christopher McDonald as Principal Stanley Brenigan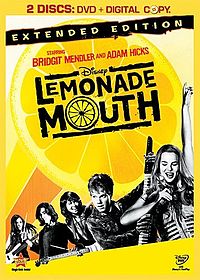 About the movie:

Lemonade Mouth tells the story of five kids who meet in detention. They all have different backgrounds and don't really get along together at first. Then they discover that they all like music. They end up forming a band. Brigit Mendler from Good Luck Charlie plays Olivia White the lead singer of the band. Adam Hicks (Luther from Disney Channel's Zeke and Luther) plays keyboards. They take their name from a lemonade drink machine which the school is planning on removing. They decide to fight to keep the lemonade machine on the school.

There also a DVD soundtrack available with all the songs from the movie. It has songs from the main band as well as their rival band in the movie, Mudslide Crush. There is a sequel in the works from Disney channel Lemonade Mouth 2.

Review

A prototypical "Disney Channel" movie for tweens. The music is okay and the movie is nice. More along the lines of Camp Rock than High School Musical. We barely gave it 4 Ducks, but kids who really like Disney Channel will enjoy this film.



4 of 5 Ducks

Watch the Movie Trailer

We are sorry, the trailer has been removed.



Back to Movies for Kids