Kids Movies
Kung Fu Panda 2
MPAA Rating: PG (sequences of martial arts action and mild violence)
Director: Jennifer Yuh Nelson
Release Date: May 27, 2011
Movie Studio: Paramount Pictures and DreamWorks Animation

Cast:

(voices)
Jack Black as Po
Angelina Jolie as Tigress
Dustin Hoffman as Shifu
Gary Oldman as Shen
Jackie Chan as Monkey
Seth Rogen as Mantis
Lucy Liu as Viper
David Cross as Crane
James Hong as Mr. Ping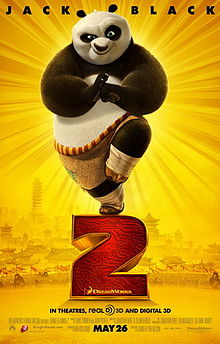 About the movie:

In this sequel to popular kid's movie Kung Fu Panda, all the main characters are back including Po, the Panda who is an expert in martial arts, Tigress, Shifu, Monkey, and Mantis. A villain who threatens all of China as well as Kung Fu has come to power and has a new powerful weapon. Po must confront this villain, but also must confront his past and overcome his fears. The plot sounds sort of serious, but the movie is full of funny stuff and good action.

The majority of the original cast is back including Jack Black, Angelina Jolie, and Dustin Hoffman. The main new addition is Gary Oldman as the villain Shen.

Review

A great follow up to the first movie, we loved this film. Very funny and full of action, the movie also has a good message. Jack Black is great as Po creating one of the most likeable heroes in quite some time.



5 of 5 Ducks

Watch the Movie Trailer

We are sorry, the trailer has been removed.



Back to Movies for Kids