Kids Movies
Justin Bieber: Never Say Never
MPAA Rating: G
Director: Jon Chu
Release Date: February 11, 2011
Movie Studio: Paramount Pictures

Cast:

(All cast members played themselves)
Usher
Boys II Men
Miley Cyrus
Sean Kingston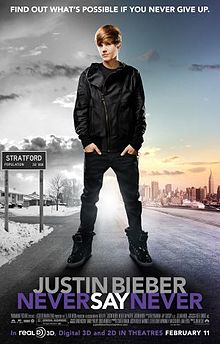 About the movie:

This movie is a documentary of Justin Bieber's rise to fame as a pop music star. It primarily focuses on an upcoming performance at Madison Square Garden as being sort of the peak of his career to date. It shows Justin as a child and a bit of how his life was growing up, what he liked to do, and how he was discovered. The movie shows other stars such as Usher (who helped to get Justin his first record deal), Miley Cyrus, and Jaden Smith.

There is a decent amount of performance material as well as back stage footage showing what it is like to prepare for a concert. Also shows how the internet had a lot to do with Justin's initial popularity.

Review

To be honest, our expectations were not high for this movie. However, it was quite good. Justin Bieber is a likeable kid who actually became famous largely because he was talented. The film is interesting even for non-Bieber fans like myself.



4 of 5 Ducks

Watch the Movie Trailer

We are sorry, the trailer has been removed.



Back to Movies for Kids