Kids Movies
Hugo
MPAA Rating: PG (for mild thematic material, some action, peril and smoking)
Director: Martin Scorsese
Release Date: November 23, 2011
Movie Studio: Paramount Pictures

Cast:


Asa Butterfield as Hugo Cabret
Chloe Moretz as Isabelle
Jude Law as Hugo's father
Emily Mortimer as Lisette
Sacha Baron Cohen as Station inspector
Christopher Lee as Monsieur Labisse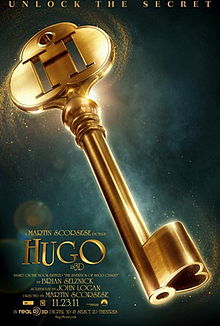 About the movie:

This movie is based on the book "The Invention of Hugo Cabret" by Brian Selznik which won several children's book awards including the Caldecott Medal. It tells the story of a young orphan boy in 1930's Paris. The boy lives in secret passageways within a Paris train station. Hugo looses his father early in the movie. The rest of the story tells how Hugo and Isabelle try to solve a mystery they think was left by Hugo's father.

There is plenty of adventure, mystery, and action in this film. It will also be available in 3D.

Review

We loved the movie Hugo. It is rated PG and has a few scary parts, but it is wonderfully filmed and acted movie.



5 out of 5 Ducks

Watch the Trailer for Hugo

We are sorry, the trailer has been removed.



Back to Movies for Kids