Kids Movies
Happy Feet Two
MPAA Rating: PG (some rude humor and mild peril)
Director: George Miller
Release Date: November 4, 2011
Movie Studio: Warner Bros.

Cast:

(voices)
Elijah Wood as Mumble
Carlos Alazraqui as Nestor
Robin Williams as Ramon
Hank Azaria as The Mighty Sven
Ned Beatty as Mr. Elder Mayor
Pink as Gloria
Brad Pitt as Krill #2
Matt Damon as Krill #1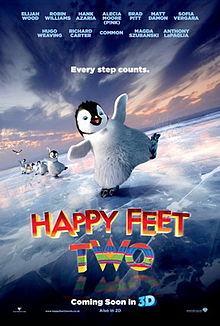 About the movie:

Happy Feet Two continues the story of Mumble the penguin from the first movie. Now Mumble (voiced by Elijah Wood) is grown up and has a son named Erik. Erik, however, doesn't like to dance like his father and this causes all sorts of problems. Erik runs away from home and meets a flying penguin named The Mighty Sven.

The movie will also be shown in 3D. Review

Happy Feet has not been one of our favorite kid's film series. We give it 3 Ducks a bit grudgingly, but it's not quite bad enough to deserve 2.



3 of 5 Ducks

Watch the Movie Trailer

We are sorry, the trailer has been removed.



Back to Movies for Kids