Kids Movies
Gulliver's Travels
MPAA Rating: PG (brief rude humor, mild language and action)
Director: Rob Letterman
Release Date: December 25, 2010
Movie Studio: 20th Century Fox

Cast:


Jack Black as Lemuel Gulliver
Jason Segel as Horatio
Emily Blunt as Princess Mary
Amanda Peet as Darcy Silverman
Billy Connolly as King Theodore
Chris O'Dowd as General Edward
T.J. Miller as Dan
James Corden as Jinks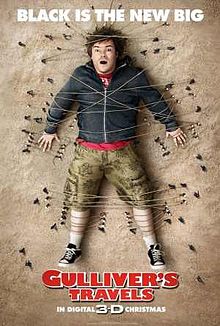 About the movie:

Gulliver's Travels tells the story of Lemuel Gulliver, a mail room worker who has grown tired of his job. He lies his way into getting a job reporting on the Bermuda Triangle. However, when traveling there he gets mysteriously transported to the land of Lilliput. The people on Lilliput are very small and soon all sorts of exciting adventures take place between Gulliver and the Lilliputians.

This movie is a modern day version of the book Gulliver's Travels by Jonathon Swift. Quite a bit was changed, but the basic idea is the same.

Review

We never expected to give a Jack Black movie this bad of a rating, but unfortunately this movie just wasn't very good. We were very dissappointed.



2 of 5 Ducks

Watch the Movie Trailer

We are sorry, the trailer has been removed.



Back to Movies for Kids