Kids Movies
Good Luck Charlie, It's Christmas!
MPAA Rating: TV-G
Director: Arlene Sanford
Release Date: December 2, 2011
Movie Studio: Disney Channel Movies

Cast:


Bridgit Mendler as Teddy Duncan
Jason Dolley as PJ Duncan
Leigh-Allyn Baker as Amy Duncan
Bradley Steven Perry as Gabe Duncan
Mia Talerico as Charlie Duncan
Eric Allan Kramer as Bob Duncan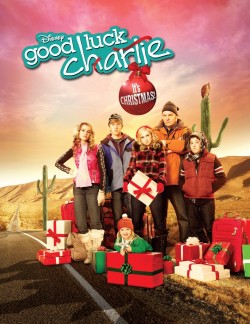 About the movie:

Good Luck Charlie, It's Christmas! is a full length movie based on the TV show of the same name. The same cast of actors and characters will be in the movie. As you can tell from the name, it's a Christmas movie. In the movie the family goes on a Christmas vacation to visit their grandparents. The trip ends up being a disaster. They go through many hilarious adventures on the way.

This movie is the first Christmas movie from Disney Channel since 2001. We are definitely looking forward to it.

Review

If you like the TV show you will love the movie. It's basically a longer version of the TV show and enjoyable to watch.



4 out of 5 Ducks

Watch the Trailer for the movie:

We are sorry, the trailer has been removed.



Back to Movies for Kids