Kids Movies
Gnomeo and Juliet
MPAA Rating: G
Director: Kelly Asbury
Release Date: February 11, 2011
Movie Studio: Touchstone Pictures

Cast:


Emily Blunt as Juliet (voice)
James McAvoy as Gnomeo (voice)
Ashley Jensen as Nanette (voice)
Michael Caine as Lord Redbrick (voice)
Jason Statham as Tybalt (voice)
Matt Lucas as Benny (voice)
Jim Cummings as Featherstone (voice)
Maggie Smith as Lady Bluebury (voice)
Ozzy Osbourne as Fawn (voice)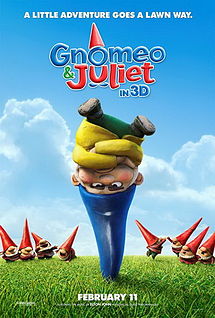 About the movie:

This computer animated film takes place in the gardens of Mrs. Montague and Mr. Capulet. They don't like each other and neither do their gardens. When they leave much of their gardens comes to life, including their garden gnomes. One garden, the Montague's, has blue gnomes, while the other garden, the Capulet's, has red gnomes. These gnomes are enemies. However, just like in the Shakespeare play of similar name, two garden gnomes from each side, Gnomeo and Juliet, fall in love. The rest of the movie is filled with adventures and funny events as the two gnomes try to meet up, but at the same time keep their love secret.

This is a Walt Disney movie and is directed by Kelly Asbury who also directed the film Shrek 2.

Review

Pretty good movie which young childen should enjoy. The gnomes are actually pretty cute and it's a very upbeat and happy take on the classic story.



3 of 5 Ducks

Watch the Movie Trailer

We are sorry, the trailer has been removed.



Back to Movies for Kids