Kids Movies
Dolphin Tale
MPAA Rating: PG (for some mild thematic elements)
Director: Charles Martin Smith
Release Date: September 23, 2011
Movie Studio: Warner Bros.

Cast:


Morgan Freeman as Dr. McCarthy
Ashley Judd as Lorraine Nelson
Kris Kristofferson as Reed Haskett
Rus Blackwell as Coach Vansky
Nathan Gamble as Sawyer Nelson
Harry Connick Jr. as Dr. Clay Haskett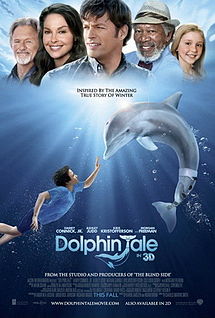 About the movie:

This movie was inspired by the real life story of a dolphin. In the movie a dolphin's tail gets injured. Dr. McCarthy, played by Morgan Freeman, works with other doctors to try and help the dolphin, who is named Winter in the movie. It's a heartwarming story of a young boy who works to see that Winter is saved.

The title is a fun play on words as it is the "tale" of a Dolphin's injured "tail". The dolphin is played by the real life Winter, who the movie is based on. We've been told that you can go to the Clearwater Marine Science Center in Clearwater, FL and meet the real Winter in person. She will probably be quite famous after the release of this movie.

Review:

This is a well made movie with excellent acting. Kids (and adults) will be amazed and inspired by this cute dolphin.



4 out of 5 Ducks

Watch the Trailer for the movie:

We are sorry, the trailer has been removed.



Back to Movies for Kids