Kids Movies
Diary of a Wimpy Kid: Rodrick Rules
MPAA Rating: PG (some mild rude humor and mischief)
Director: David Bowers
Release Date: March 25, 2011
Movie Studio: 20th Century Fox

Cast:


Zachary Gordon as Greg Heffley
Devon Bostick as Rodrick Heffley
Rachael Harris as Susan Heffley
Robert Capron as Rowley Jefferson
Steve Zahn as Manny Heffley
Peyton List as Holly Hills
Karan Brar as Chirag
Laine MacNeil as Patty Farrell
Grayson Russell as Fregley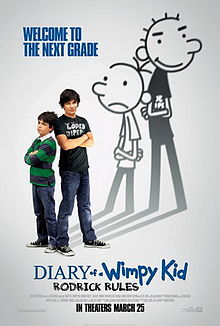 About the movie:

Zachary Gordon is back as Greg Heffley in the second installment of the Wimpy Kid movies. Summer is over and middle school has started again. Greg goes through more of the same hilarious middle school stuff with his friends Rowley and Chirag. In this movie his brother Rodrick plays a bigger part as the boy's parents want them to bond and become good friends. Although the brothers both think their parents are crazy and don't want to hang out, by the end of the movie they end up as friends.

The movie is based on the funny popular kid's book with the same name written by Jeff Kinney.

Review

Although the movie has some funny moments it in no way comes close to the hilarity of the books (which can be very funny). We think the biggest problem with the film is that the main characters just aren't that likeable and there really is no redeeming theme to the story.



3 of 5 Ducks

Watch the Movie Trailer

We are sorry, the trailer has been removed.



Back to Movies for Kids