Kids Movies
Chronicles of Narnia: Voyage of the Dawn Treader
MPAA Rating: PG (frightening images and sequences of fantasy action)
Director: Michael Apted
Release Date: November 30, 2010
Movie Studio: 20th Century Fox

Cast:


Georgie Henley as Lucy Pevensie
Skandar Keynes as Edmund Pevensie
Ben Barnes as Prince Caspian
Will Poulter as Eustace Clarence Scrubb
Gary Sweet as Drinian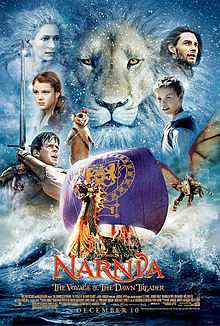 About the movie:

This movie is based on the third book of C.S. Lewis' series The Chronicles of Narnia. In this story only Lucy and Edmund return to Narnia, this time bringing their annoying cousin Eustace along with them. When they first land in Narnia they are in the middle of the ocean. Fortunately, Prince Caspian is there in a ship. He is on an adventure to investigate what happened to the Seven Lords of Telmar. He also hopes to see the ends of the earth. The valiant rat Reepicheep is traveling with him as well. The three children have many adventures along the way full of action and excitement.

This movie had some issues in getting made. It was originally a Disney film, but was dropped due the box office performance of Prince Caspian, the second movie. Dawn Treader performed well enough, however, that the fourth movie, The Magician's Nephew, is in the works.

Review

The special effects in this movie are quite good. The movie was better than we expected, but not quite as good as the two previous movies from the C.S. Lewis series. It was still very entertaining. It is PG and will be scary for some young children.



4 of 5 Ducks



We are sorry, the trailer has been removed.



Back to Movies for Kids