Kids Movies
Cars 2
MPAA Rating: G
Director: John Lasseter and Brad Lewis
Release Date: June 24, 2011
Movie Studio: Walt Disney Pictures and Pixar

Cast:

(voices)
Owen Wilson as Lightning McQueen
Larry the Cable Guy as Mater
Michael Caine as Finn McMissile
Emily Mortimer as Holley Shiftwell
Eddie Izzard as Sir Miles Axlerod
John Turturro as Francesco Bernoulli
Brent Musburger as Brent Mustangburger
Joe Mantegna as Grem
Thomas Kretschmann as Professor Z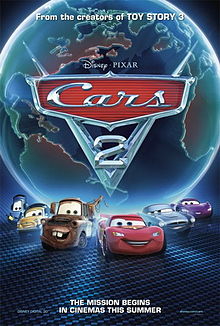 About the movie:

Lightning McQueen and Mater are back for more racing in this sequel to Pixar's popular Cars movie. They head to Japan for a big race, but get caught up with spies and all sorts of adventures. Mater gets pulled into a world of international spies, fighting against the evil weapons designer Professor Z. They travel to other areas of the world including Italy for more of the World Grand Prix races.

This is an excellent movie that many kids will love in the tradition of Pixar and Disney. The director, John Lasseter, is the Chief Creative Officer at Pixar. He also directed Toy Story, Toy Story 2, and Cars.

Review

While this movie may not be as good as some other Pixar films, it's still Pixar and it's still pretty good. Kids will love this entertaining and fun movie.



4 of 5 Ducks

Watch the Movie Trailer

We are sorry, the trailer has been removed.



Back to Movies for Kids