Kids Movies
Alvin and the Chipmunks: Chipwrecked
MPAA Rating: G
Director: Mike Mitchell
Release Date: December 16, 2011
Movie Studio: 20th Century Fox

Cast:


Jason Lee as Dave
Alyssa Milano as Daphne Snow
Justin Long as Alvin (voice)
Matthew Gray Gubler as Simon (voice)
Jesse McCartney as Theodore (voice)
Amy Poehler as Eleanor (voice)
Anna Faris as Jeanette (voice)
Christina Applegate as Brittany (voice)
David Cross as Ian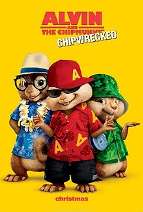 About the movie:

This is the third movie in the Alvin and the Chipmunk series. Jason Lee is back as the Chipmunks "Dad". This time he is taking them on a family vacation. They get into all sorts of trouble on the cruise ship, mostly caused by an over adventurous Alvin. They end up marooned on an island where more adventures await them.

Review

Fun and entertaining, but not as good as the first two Alvin and the Chipmunks films.



3 out of 5 Ducks

Watch a Trailer of the Movie

We are sorry, the trailer has been removed.



Back to Movies for Kids