Kids Movies
The Adventures of Tintin
MPAA Rating: PG (for adventure action violence, some drunkenness and brief smoking)
Director: Steven Spielberg
Release Date: December 23, 2011
Movie Studio: Paramount Pictures

Cast:


Jamie Bell as Tintin
Daniel Craig as Red Rackham
Simon Pegg as Inspector Thompson
Andy Serkis as Captain Haddock
Nick Frost as Thomson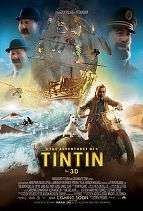 About the movie:

This movie is based on a series of books called the Adventures of Tintin by Herge. Tintin is a teenage reporter who loves a good mystery. In the movie he finds the directions to a sunken ship. Along with his friends, Tintin has a number of adventures full of action in his efforts to find this ship.

Review

This movie had amazing animation and a good story with lots of action. The animation, while excellent, can be a bit creepy at times. The twin cops are very funny. I would have given this a higher rating had the ending been better.



3 out of 5 Ducks

Watch a Trailer of the Movie



Trailer for The Adventures of Tintin: The Secret of the Unicorn on TrailerAddict.





Back to Movies for Kids