| | |
| --- | --- |
| Virgin Islands | |
Capital: Charlotte Amalie

Population: 104,578

Brief History of Virgin Islands:
The Virgin Islands were inhabited by the Native American Arawaks and Caribs. Most of the Native Americans died from disease when the Europeans arrived. Christopher Columbus first discovered the islands and named them Santa Ursula y las Once Mil V?rgenes.

In the 17th century the islands were divided up between the English and the Danish. For some time the islands were used to grow sugarcane and slaves were brought in from Africa to work the lands. Today, many of the citizens are descendents of the African slaves.

In 1917 the United States purchased the Danish portion of the Islands for $25 million. Today they are a United States territory. The four larger islands that are part of the US Virgin Islands include Saint Croix, Saint John, Saint Thomas, and Water Island. The main islands that form the British Virgin Islands include Tortola, Virgin Gorda, Anegada and Jost Van Dyke.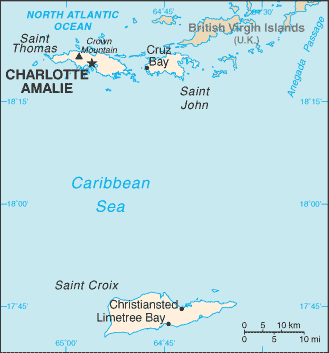 The Geography of Virgin Islands
Total Size: 1,910 square km

Size Comparison: twice the size of Washington, DC

Geographical Coordinates: 18 20 N, 64 50 W

World Region or Continent: Central America

General Terrain: mostly hilly to rugged and mountainous with little level land

Geographical Low Point: Caribbean Sea 0 m

Geographical High Point: Crown Mountain 475 m

Climate: subtropical, tempered by easterly trade winds, relatively low humidity, little seasonal temperature variation; rainy season September to November

Major cities: CHARLOTTE AMALIE (capital) 54,000 (2009)


The People of Virgin Islands
Type of Government: NA

Languages Spoken: English 74.7%, Spanish or Spanish Creole 16.8%, French or French Creole 6.6%, other 1.9% (2000 census)

Independence:

National Holiday: Transfer Day (from Denmark to the US), 27 March (1917)

Nationality: Virgin Islander(s) (US citizens)

Religions: Baptist 42%, Roman Catholic 34%, Episcopalian 17%, other 7%

National Symbol:

National Anthem or Song: Virgin Islands March


Economy of Virgin Islands
Major Industries: tourism, petroleum refining, watch assembly, rum distilling, construction, pharmaceuticals, textiles, electronics

Agricultural Products: fruit, vegetables, sorghum; Senepol cattle

Natural Resources: sun, sand, sea, surf

Major Exports: refined petroleum products

Major Imports: crude oil, foodstuffs, consumer goods, building materials

Currency: US dollar (USD)

National GDP: $1,577,000,000




** Source for population (2012 est.) and GDP (2011 est.) is CIA World Factbook.



Back to Geography Home Page