| | |
| --- | --- |
| Vanuatu | |
Capital: Port-Vila (on Efate)

Population: 299,882

Brief History of Vanuatu:
Vanuatu is a small island nation in the South Pacific Ocean. The islands were inhabited for thousands of years prior to being discovered in 1606 by Portuguese explorer Pedro Fernandez De Quiros. However, Europeans did not return for many years. In 1774 Captain Cook visited the islands and named them the New Hebrides.

Over the years, many colonists from both France and Britain settled on the islands. The French and the British decided to jointly administer the islands. The islands gained independence in 1980 changing their name to the Republic of Vanuatu.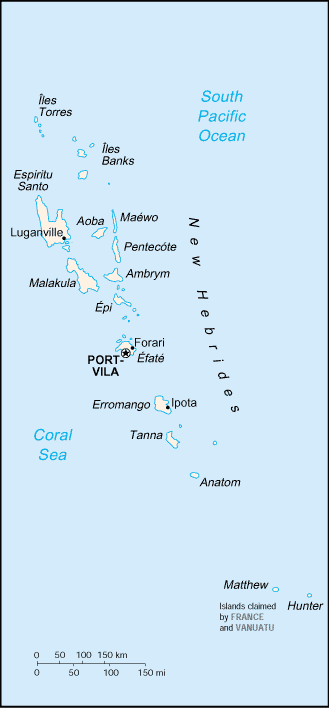 The Geography of Vanuatu
Total Size: 12,200 square km

Size Comparison: slightly larger than Connecticut

Geographical Coordinates: 16 00 S, 167 00 E

World Region or Continent: Oceania

General Terrain: mostly mountainous islands of volcanic origin; narrow coastal plains

Geographical Low Point: Pacific Ocean 0 m

Geographical High Point: Tabwemasana 1,877 m

Climate: tropical; moderated by southeast trade winds from May to October; moderate rainfall from November to April; may be affected by cyclones from December to April

Major cities:


The People of Vanuatu
Type of Government: parliamentary republic

Languages Spoken: local languages (more than 100) 72.6%, pidgin (known as Bislama or Bichelama) 23.1%, English 1.9%, French 1.4%, other 0.3%, unspecified 0.7% (1999 Census)

Independence: 30 July 1980 (from France and UK)

National Holiday: Independence Day, 30 July (1980)

Nationality: Ni-Vanuatu (singular and plural)

Religions: Presbyterian 31.4%, Anglican 13.4%, Roman Catholic 13.1%, Seventh-Day Adventist 10.8%, other Christian 13.8%, indigenous beliefs 5.6% (including Jon Frum cargo cult), other 9.6%, none 1%, unspecified 1.3% (1999 Census)

National Symbol: boar's tusk

National Anthem or Song: Yumi, Yumi, Yumi (We, We, We)


Economy of Vanuatu
Major Industries: food and fish freezing, wood processing, meat canning

Agricultural Products: copra, coconuts, cocoa, coffee, taro, yams, fruits, vegetables; beef; fish

Natural Resources: manganese, hardwood forests, fish

Major Exports: copra, beef, cocoa, timber, kava, coffee

Major Imports: machinery and equipment, foodstuffs, fuels

Currency: vatu (VUV)

National GDP: $1,186,000,000




** Source for population (2012 est.) and GDP (2011 est.) is CIA World Factbook.



Back to Geography Home Page