| | |
| --- | --- |
| United Arab Emirates | |
Capital: Abu Dhabi

Population: 9,770,529

Brief History of United Arab Emirates:
In the year 630 AD, envoys from Muhammad arrived to the area of the United Arab Emirates and much of the area was converted to Islam. The non-Muslims were defeated at Dibba in a major battle of the Ridda wars.

In the early 16th century the Portuguese arrived. They controlled much of the coast for around 150 years. After that the coast became an area where pirates would hide out and attack the shipping industry. The British got involved with the local sheikhs, called the Trucial Sheikhdoms and signed a treaty with them where the British navy would patrol the waters.

In 1971, six of the sheikhdoms joined together to form the United Arab Emirates. They were Abu Zaby, Ajman, Al Fujayrah, Ash Shariqah, Dubayy, and Umm al Qaywayn. In 1972 a seventh state, Ra's al Khaymah also joined. The country is sometimes called the UAE. It has done well economically due to oil revenues.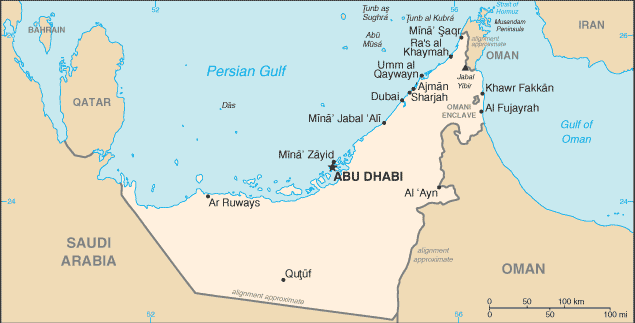 The Geography of United Arab Emirates
Total Size: 82,880 square km

Size Comparison: slightly smaller than Maine

Geographical Coordinates: 24 00 N, 54 00 E

World Region or Continent: Middle East

General Terrain: flat, barren coastal plain merging into rolling sand dunes of vast desert wasteland; mountains in east

Geographical Low Point: Persian Gulf 0 m

Geographical High Point: Jabal Yibir 1,527 m

Climate: desert; cooler in eastern mountains

Major cities: ABU DHABI (capital) 666,000 (2009)


The People of United Arab Emirates
Type of Government: federation with specified powers delegated to the UAE federal government and other powers reserved to member emirates

Languages Spoken: Arabic (official), Persian, English, Hindi, Urdu

Independence: 2 December 1971 (from UK)

National Holiday: Independence Day, 2 December (1971)

Nationality: Emirati(s)

Religions: Muslim 96% (Shi'a 16%), Christian, Hindu, and other 4%

National Symbol: golden falcon

National Anthem or Song: Nashid al-watani al-imarati (National Anthem of the UAE)


Economy of United Arab Emirates
Major Industries: petroleum and petrochemicals; fishing, aluminum, cement, fertilizers, commercial ship repair, construction materials, some boat building, handicrafts, textiles

Agricultural Products: dates, vegetables, watermelons; poultry, eggs, dairy products; fish

Natural Resources: petroleum, natural gas

Major Exports: crude oil 45%, natural gas, reexports, dried fish, dates

Major Imports: machinery and transport equipment, chemicals, food

Currency: Emirati dirham (AED)

National GDP: $256,500,000,000




** Source for population (2012 est.) and GDP (2011 est.) is CIA World Factbook.



Back to Geography Home Page