| | |
| --- | --- |
| Tokelau | |
Capital: none; each atoll has its own administrative center

Population: 1,340

Brief History of Tokelau:
Tokelau is an island nation in the Pacific Ocean and it a territory of New Zealand. The islands were originally settled by Polynesian peoples who immigrated from nearby islands. In 1889 the islands came under the control of Britain, but were later transferred to New Zealand in 1925.

Tokelau is a very small territory and today has a population of less than 1500 people.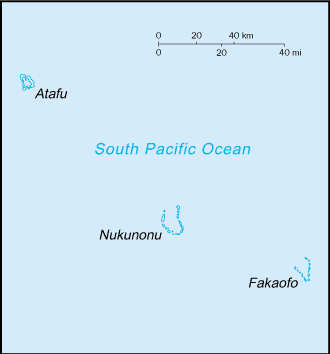 The Geography of Tokelau
Total Size: 10 square km

Size Comparison: about 17 times the size of The Mall in Washington, DC

Geographical Coordinates: 9 00 S, 172 00 W

World Region or Continent: Oceania

General Terrain: low-lying coral atolls enclosing large lagoons

Geographical Low Point: Pacific Ocean 0 m

Geographical High Point: unnamed location 5 m

Climate: tropical; moderated by trade winds (April to November)

Major cities:


The People of Tokelau
Type of Government: NA

Languages Spoken: Tokelauan (a Polynesian language), English

Independence: none (territory of New Zealand)

National Holiday: Waitangi Day (Treaty of Waitangi established British sovereignty over New Zealand), 6 February (1840)

Nationality: Tokelauan(s)

Religions: Congregational Christian Church 70%, Roman Catholic 28%, other 2%

National Symbol: tuluma (fishing tackle box)

National Anthem or Song: Te Atua (For the Almighty)


Economy of Tokelau
Major Industries: small-scale enterprises for copra production, woodworking, plaited craft goods; stamps, coins; fishing

Agricultural Products: coconuts, copra, breadfruit, papayas, bananas; pigs, poultry, goats; fish

Natural Resources: NEGL

Major Exports: stamps, copra, handicrafts

Major Imports: foodstuffs, building materials, fuel

Currency: New Zealand dollar (NZD)

National GDP: $1,500,000




** Source for population (2012 est.) and GDP (2011 est.) is CIA World Factbook.



Back to Geography Home Page