| | |
| --- | --- |
| Kyrgyzstan | |
Capital: Bishkek

Population: 6,415,850

Brief History of Kyrgyzstan:
Kyrgyzstan was originally settled in 201 BC by nomadic people of Turkic descent. In the 12th century, Islam became the primary religion in the area. By the 15th and 16th centuries the Kyrgyz people settled most of what is today the Kyrgyz Republic.

In 1876, Kyrgyzstan was taken over by the Russian Empire. Many Kyrgyz people migrated to China, the Pamir mountains, or Afghanistan. After the fall of the Russian Empire, the Soviet Union took over. In 1991 Kyrgyzstan became a fully independent country. The first president was Askar Akaev who ran the country for 15 years. He was ousted in 2005. Since then the nation has been an area of unrest.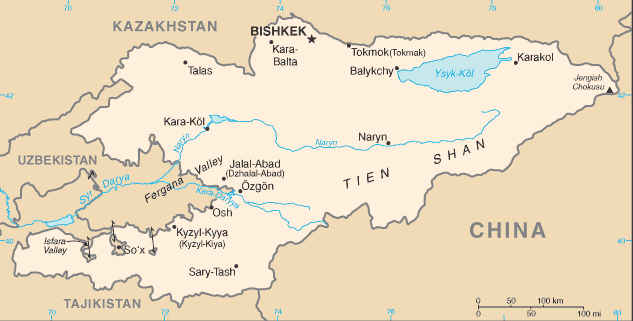 The Geography of Kyrgyzstan
Total Size: 198,500 square km

Size Comparison: slightly smaller than South Dakota

Geographical Coordinates: 41 00 N, 75 00 E

World Region or Continent: Asia

General Terrain: peaks of Tien Shan and associated valleys and basins encompass entire nation

Geographical Low Point: Kara-Daryya (Karadar'ya) 132 m

Geographical High Point: Jengish Chokusu (Pik Pobedy) 7,439 m

Climate: dry continental to polar in high Tien Shan; subtropical in southwest (Fergana Valley); temperate in northern foothill zone

Major cities: BISHKEK (capital) 854,000 (2009), Osh


The People of Kyrgyzstan
Type of Government: republic

Languages Spoken: Kyrgyz (official), Russian (official)

Independence: 31 August 1991 (from Soviet Union)

National Holiday: Independence Day, 31 August (1991)

Nationality: Kyrgyzstani(s)

Religions: Muslim 75%, Russian Orthodox 20%, other 5%

National Symbol: gyrfalcon

National Anthem or Song: Kyrgyz Respublikasynyn Mamlekettik Gimni (National Anthem of the Kyrgyz Republic)


Economy of Kyrgyzstan
Major Industries: small machinery, textiles, food processing, cement, shoes, sawn logs, refrigerators, furniture, electric motors, gold, rare earth metals

Agricultural Products: tobacco, cotton, potatoes, vegetables, grapes, fruits and berries; sheep, goats, cattle, wool

Natural Resources: abundant hydropower; significant deposits of gold and rare earth metals; locally exploitable coal, oil, and natural gas; other deposits of nepheline, mercury, bismuth, lead, and zinc

Major Exports: cotton, wool, meat, tobacco; gold, mercury, uranium, natural gas, hydropower; machinery; shoes

Major Imports: oil and gas, machinery and equipment, chemicals, foodstuffs

Currency:

National GDP: $13,130,000,000




** Source for population (2012 est.) and GDP (2011 est.) is CIA World Factbook.



Back to Geography Home Page