| | |
| --- | --- |
| Jersey | |
Capital: Saint Helier

Population: 106,800

Brief History of Jersey:
Jersey is a small island country off the shores of Normandy, France. In the 9th century it was invaded and inhabited by Vikings. For some time it was part of the Duchy of Normandy. The Dukes of Normandy owned large estates on the island.

During World War II Jersey was occupied by German troops. Today Jersey is a British crown dependency. It is not part of the UK, however, or the European Union. The UK is responsible for Jersey's defense and foreign relations.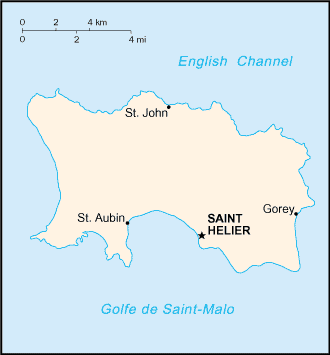 The Geography of Jersey
Total Size: 116 square km

Size Comparison: about two-thirds the size of Washington, DC

Geographical Coordinates: 49 15 N, 2 10 W

World Region or Continent: Europe

General Terrain: gently rolling plain with low, rugged hills along north coast

Geographical Low Point: Atlantic Ocean 0 m

Geographical High Point: unnamed location 143 m

Climate: temperate; mild winters and cool summers

Major cities:


The People of Jersey
Type of Government: NA

Languages Spoken: English 94.5% (official), Portuguese 4.6%, other 0.9% (2001 census)

Independence: none (British crown dependency)

National Holiday: Liberation Day, 9 May (1945)

Nationality: Channel Islander(s)

Religions: Anglican, Roman Catholic, Baptist, Congregational New Church, Methodist, Presbyterian

National Symbol: Jersey cow

National Anthem or Song: Isle de Siez Nous (Island Home)


Economy of Jersey
Major Industries: tourism, banking and finance, dairy

Agricultural Products: potatoes, cauliflower, tomatoes; beef, dairy products

Natural Resources: arable land

Major Exports: light industrial and electrical goods, foodstuffs, textiles

Major Imports: machinery and transport equipment, manufactured goods, foodstuffs, mineral fuels, chemicals

Currency: British pound (GBP); note - there is also a Jersey pound

National GDP: $5,100,000,000




** Source for population (2012 est.) and GDP (2011 est.) is CIA World Factbook.



Back to Geography Home Page