| | |
| --- | --- |
| British Virgin Islands | |
Capital: Road Town

Population: 30,030

Brief History of British Virgin Islands:
The British Virgin Islands were originally settled by the Arawak peoples from South Africa in the first century BC. They lived there until they were driven from the islands by the warlike Carib tribes in the 1500s.

Christopher Columbus first discovered the Virgin Islands during his second voyage to the Americas in1493. He named them Santa Ursula y las Once Mil V?rgenes which means Saint Ursula and her 11,000 Virgins. This is where the name Virgin Islands comes from.Although the Spanish were the first to discover the islands and claim them, they didn't settle the islands and other European empires moved in. Like much of the Caribbean, the islands became a hideout for pirates and other criminals.

In 1672, Britain captured the island of Tortola from the Dutch. They also took control of Anegad and Virgin Gorda. The islands were used to grow sugar cane. Slaves were brought from Africa to work the fields. Slavery was abolished in the 1800's. A famous landmark on the island of Tortola is the St. Phillip's Church which is thought to be the oldest free black church in the Americas.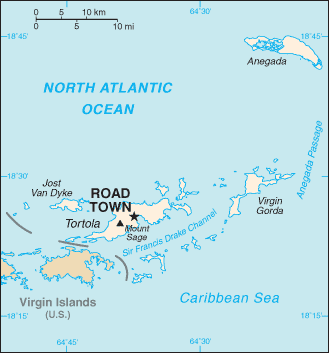 The Geography of British Virgin Islands
Total Size: 153 square km

Size Comparison: about 0.9 times the size of Washington, DC

Geographical Coordinates: 18 30 N, 64 30 W

World Region or Continent: Central America

General Terrain: coral islands relatively flat; volcanic islands steep, hilly

Geographical Low Point: Caribbean Sea 0 m

Geographical High Point: Mount Sage 521 m

Climate: subtropical; humid; temperatures moderated by trade winds

Major cities: ROAD TOWN (capital) 9,000 (2009)


The People of British Virgin Islands
Type of Government: NA

Languages Spoken: English (official)

Independence: none (overseas territory of the UK)

National Holiday: Territory Day, 1 July

Nationality: British Virgin Islander(s)

Religions: Protestant 86% (Methodist 33%, Anglican 17%, Church of God 9%, Seventh-Day Adventist 6%, Baptist 4%, Jehovah's Witnesses 2%, other 15%), Roman Catholic 10%, none 2%, other 2% (1991)

National Symbol:

National Anthem or Song: note:?as a territory of the United Kingdom, God Save the Queen is official (see United Kingdom)


Economy of British Virgin Islands
Major Industries: tourism, light industry, construction, rum, concrete block, offshore financial center

Agricultural Products: fruits, vegetables; livestock, poultry; fish

Natural Resources: NEGL

Major Exports: rum, fresh fish, fruits, animals; gravel, sand

Major Imports: building materials, automobiles, foodstuffs, machinery

Currency: US dollar (USD)

National GDP: $853,400,000




** Source for population (2012 est.) and GDP (2011 est.) is CIA World Factbook.



Back to Geography Home Page