| | |
| --- | --- |
| Belize | |
Capital: Belmopan

Population: 390,353

Brief History of Belize:
Belize was originally settled by the Mayan civilization. They began moving into Belize in 1500 BC. There are several Mayan sites in Belize including Altun Ha, Xunantunich, and Caracol. Quite a few people lived in Belize at the time.

Christopher Columbus was the first European to visit Belize in 1502. Later shipwrecked sailors started the first settlement in Belize. It was many years later in 1840 that Belize became a British Colony. It was called the Colony of British Honduras.

In 1973, the territory we renamed to Belize. On September 21, 1981 it gained independence.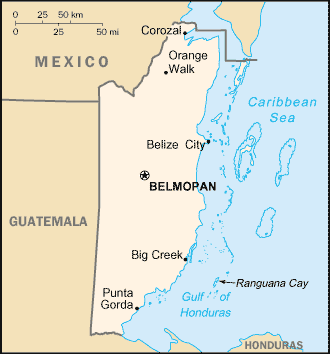 The Geography of Belize
Total Size: 22,966 square km

Size Comparison: slightly smaller than Massachusetts

Geographical Coordinates: 17 15 N, 88 45 W

World Region or Continent: Central America

General Terrain: flat, swampy coastal plain; low mountains in south

Geographical Low Point: Caribbean Sea 0 m

Geographical High Point: Victoria Peak 1,160 m

Climate: tropical; very hot and humid; rainy season (May to November); dry season (February to May)

Major cities: BELMOPAN (capital) 20,000 (2009)


The People of Belize
Type of Government: parliamentary democracy

Languages Spoken: English (official), Spanish, Mayan, Garifuna (Carib), Creole

Independence: 21 September 1981 (from UK)

National Holiday: Independence Day, 21 September (1981)

Nationality: Belizean(s)

Religions: Roman Catholic 49.6%, Protestant 27% (Pentecostal 7.4%, Anglican 5.3%, Seventh-Day Adventist 5.2%, Mennonite 4.1%, Methodist 3.5%, Jehovah's Witnesses 1.5%), other 14%, none 9.4% (2000)

National Symbol: Baird's tapir (a large, browsing, forest-dwelling mammal); keel-billed toucan

National Anthem or Song: Land of the Free


Economy of Belize
Major Industries: garment production, food processing, tourism, construction

Agricultural Products: bananas, coca, citrus, sugar; fish, cultured shrimp; lumber; garments

Natural Resources: arable land potential, timber, fish, hydropower

Major Exports: sugar, bananas, citrus, clothing, fish products, molasses, wood

Major Imports: machinery and transport equipment, manufactured goods; fuels, chemicals, pharmaceuticals; food, beverages, tobacco

Currency: Belizean dollar (BZD)

National GDP: $2,786,000,000




** Source for population (2012 est.) and GDP (2011 est.) is CIA World Factbook.



Back to Geography Home Page