| | |
| --- | --- |
| Aruba | |
Capital: Oranjestad

Population: 106,314

Brief History of Aruba:
Aruba was settled as early as 1000 AD by the Caquetios Indians of the Arawak tribe. The first European to discover Aruba was the Spanish explorer Alonso de Ojeda. He arrived in 1499 and claimed Aruba for Spain. In 1636 the Dutch took over, however. They remained in control for around 200 years. During which time the English had control for a short time during the Napoleonic wars.

In 1986 Aruba seceded from the Netherlands Antilles. It became an independent member of the King of the Netherlands. The country was on its way to becoming a fully independent country when Aruba decided it would like to stay part of the Kingdom of the Netherlands.

The island experienced a gold rush in the 19th century. There also was an oil refinery build there in 1924. Today the country is a tourist spot and much of its economy is based on tourism.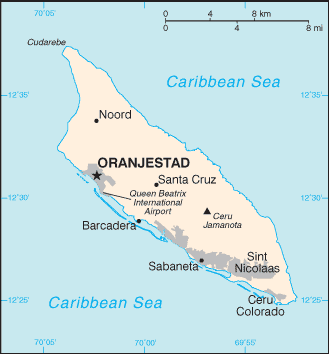 The Geography of Aruba
Total Size: 193 square km

Size Comparison: slightly larger than Washington, DC

Geographical Coordinates: 12 30 N, 69 58 W

World Region or Continent: Central America

General Terrain: flat with a few hills; scant vegetation

Geographical Low Point: Caribbean Sea 0 m

Geographical High Point: Mount Jamanota 188 m

Climate: tropical marine; little seasonal temperature variation

Major cities: ORANJESTAD (capital) 33,000 (2009)


The People of Aruba
Type of Government: parliamentary democracy

Languages Spoken: Dutch (official), Papiamento (a Spanish, Portuguese, Dutch, English dialect), English (widely spoken), Spanish

Independence: none (part of the Kingdom of the Netherlands)

National Holiday: Flag Day, 18 March

Nationality: Aruban(s)

Religions: Roman Catholic 82%, Protestant 8%, Hindu, Muslim, Confucian, Jewish

National Symbol:

National Anthem or Song: Aruba Deshi Tera (Aruba Precious Country)


Economy of Aruba
Major Industries: tourism, transshipment facilities, oil refining

Agricultural Products: aloes; livestock; fish

Natural Resources: NEGL; white sandy beaches

Major Exports: live animals and animal products, art and collectibles, machinery and electrical equipment, transport equipment

Major Imports: machinery and electrical equipment, crude oil for refining and reexport, chemicals; foodstuffs

Currency: Aruban guilder/florin (AWG)

National GDP: $2,258,000,000




** Source for population (2012 est.) and GDP (2011 est.) is CIA World Factbook.



Back to Geography Home Page