Biographies for Kids >> US Presidents for Kids
Biography
President Joseph Biden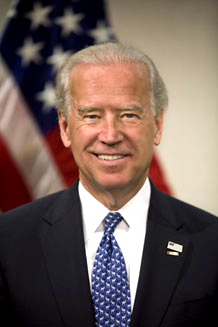 Joseph Biden

Source: The White House



46th President of the United States.

Served as President: 2021-present
Vice President: Kamala Harris
Party: Democrat
Age at inauguration: 78

Born: November 20, 1942 in Scranton, Pennsylvania
Married: Neilia Hunter (died 1972), Jill Jacobs (First Lady)
Children: Beau, Hunter, Naomi, Ashley
Nickname: Amtrak Joe


What is Joe Biden most famous for?

Joe Biden is famous for his long career as a politician in the U.S. government. He spent 36 years serving in the U.S. Senate and then 8 years as Vice President before being elected President.

Where did Joe Biden grow up?

Joseph (Joe) Biden was born on November 20, 1942 in Scranton, Pennsylvania. His family fell on tough times and they had to live with his grandparents for a while. When Joe was eleven years old his family moved to Delaware. Joe attended Archmere Academy (a private school) in Claymont, Delaware where he enjoyed playing football and baseball.



Education

Joe attended the University of Delaware for college. He graduated in 1965 with a dual degree in history and political science. Joe then went on to earn a law degree from the University of Syracuse and passed the bar exam in 1969. It was at Syracuse that Joe met his first wife, Neilia Hunter. They had three children together during their marriage.

Early Career

Biden began his career as a law clerk and then became a lawyer after passing the bar. He worked as a public defender for a short time and then formed his own law firm. In 1970, Joe ran for his first public office as a District Seat on the New Castle County Council. He won and served in that position for two years.

Senate Election

In 1972, Joe Biden decided to run for the U.S. Senate in Delaware. The incumbent was a republican named Boggs who everyone thought would win easily. Joe was the only Democrat who tried to run against Boggs and most people thought he had little chance to win. His campaign had hardly any money and most of his campaign staffers were family members. In the end, Joe defied the odds and defeated Boggs by getting 50.5 percent of the vote.

Tragedy

A few weeks after winning the election, tragedy struck the Biden family. Joe's wife Neilia and his daughter Naomi were killed in a car crash. Both of his sons were hurt in the accident as well, but eventually recovered. Joe was devastated. He nearly resigned from his new position as Senator to take care of his boys.

Senator

Joe Biden served in the U.S. Senate for 36 years from 1973 to 2009. His Senate career spanned seven presidents from Richard Nixon to George Bush. While in the Senate, Joe played a major role in two important committees: the Senate Judiciary Committee and the Senate Foreign Relations Committee.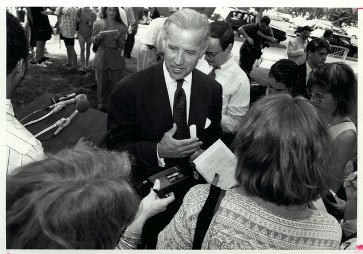 Joseph Biden talks with reporters, 1994

by Kathleen R. Beall

During his time as senator, Joe commuted between Washington, D.C. and Delaware every day taking the Amtrak train. He did this so his boys could stay in Delaware after their mom died. This is how he got the nickname Amtrak Joe.

Vice-President

Joe Biden campaigned for president in both the 1988 and 2008 elections. After losing in the 2008 Democratic Primary, Joe became the Vice-Presidential running mate for Barack Obama. Barack and Joe won the election and Joe became Vice President of the United States in 2009. He served as Vice President for 8 years.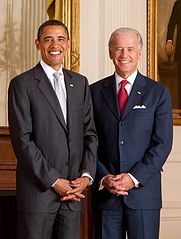 Joseph Biden with Barack Obama

by Chuck Kennedy

Running for President

Joe decided not to run for president in 2016 and spent the next few years as a professor at the University of Pennsylvania and writing books. However, Biden entered the race for president again in 2020. This time he won, defeating incumbent Donald Trump.

President

At the time of the writing of this article, Joe Biden's presidency had just begun.

Interesting Facts about Joe Biden
His middle name is Robinette and he is a Jr. (his father had the same name).
His father was a successful used car salesman.
He was class president for both his junior and senior years in high school.
At 30 years old, Biden was the 6th youngest senator in history at the time of his swearing in.
At 78 years old, Biden was the oldest president at the time of his inauguration.
He has had two brain surgeries and has had his gallbladder removed.
Joe married his second wife and the current first lady Jill Tracy Jacobs in 1977.
Activities
Take a ten question quiz about this page.


Listen to a recorded reading of this page:

Your browser does not support the audio element.


Biographies for Kids >> US Presidents for Kids

Works Cited