Ellen Ochoa
Biography >> Explorers for Kids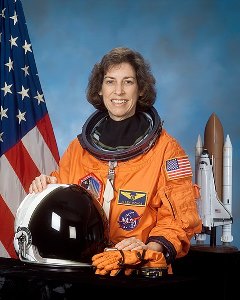 Ellen Ochoa
Source: NASA
Occupation: Astronaut, engineer, and scientist
Born: May 10, 1958 in Los Angeles, California
Best known for: Being the first Hispanic woman to travel to outer space.
Biography:

Where did Ellen Ochoa grow up?

Ellen was born In Los Angeles, California on May 10, 1958. She grew up in Southern California with her sister and three brothers. Her teen years were spent in the San Diego area where she graduated from high school.

Education

Ellen was an excellent student in high school. She graduated as her class valedictorian in 1975. Despite earning a full scholarship to Stanford, Ellen decided to attend San Diego State University so she could stay close to home. When Ellen first entered college, she thought she might want to be a journalist. However, she soon discovered a love for science and decided to major in physics.

Once again, Ellen performed well in college and was the valedictorian of her 1980 graduating class. Ellen then moved to Stanford University where she earned a master's degree and a doctorate in electrical engineering.

Early Career

Ochoa took a position as a researcher at the Sandia National Laboratories where she worked on optical systems. During her time there, Ochoa was the co-inventor on three patents. In 1988, Ellen went to work for NASA at the Ames Research Center.

Becoming an Astronaut

Ellen had a dream of being an astronaut and traveling to outer space. She applied for the NASA Training Program a few times, but was rejected. However, Ellen didn't give up and she continued to apply. She was finally accepted to the program in 1990. After joining the program, Ochoa moved to the Johnson Space Center where she worked as an astronaut specializing in robotics, software, and computer hardware.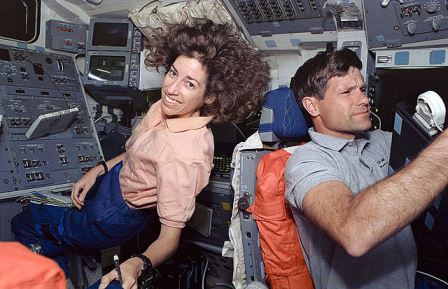 Ellen Ochoa aboard the Space Shuttle Atlantis

Source: NASA

Voyaging into Space

In order to prepare for a space flight, Ellen had to undergo all sorts of training including intense physical training and exhaustive mental tests. She had to know all sorts of scientific and technical information about the space shuttle as well as emergency procedures and how to conduct experiments.

Ellen's first space mission was aboard the space shuttle Discovery. When the shuttle launched into space in April of 1993 she became the first Hispanic woman to enter space. The mission lasted nine days. During the mission, the crew studied the effects of the Sun's energy output and the Earth's atmosphere on the ozone layer.

Over the next nine years, Ellen would participate in three more space missions taking on various roles including payload commander, mission specialist, and flight engineer.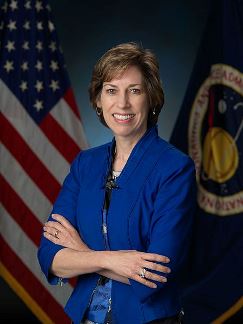 Ellen as Director of the JSC

Source: NASA

Johnson Space Center

In 2008, Ellen became the deputy director of the Johnson Space Center. After five years, she was promoted to the director of the Space Center. As director, Ellen oversaw the initial development of the Orion spacecraft which is being designed to take a human crew beyond low Earth orbit.

Later Career

Ochoa retired as director of Johnson Space Center in 2018. Since then she has served on the board of various organizations including the National Science Board and two Fortune 1000 companies. She is also a speaker, giving speeches at various organizations throughout the world.

Interesting Facts about Ellen Ochoa
She was inducted into the United States Astronaut Hall of Fame in 2017.
Ellen is an accomplished flautist (flute player). She earned the Student Soloist Award with the Stanford Symphony Orchestra and played the flute with the San Diego State marching band. She even brought a flute with her on her first Space Shuttle mission.
She spent a total of over 40 days in space.
Ellen is married to Coe Miles and has two sons.
Several schools in the United States have been named after Ellen.
She was the first Hispanic director and the second female director of the Johnson Space Center.
Ellen's grandparents on her father's side emigrated from Mexico.
Activities
Take a ten question quiz about this page.


Listen to a recorded reading of this page:

Your browser does not support the audio element.


More Explorers: Works Cited

Biography for Kids >> Explorers for Kids