Biography
Josephine Baker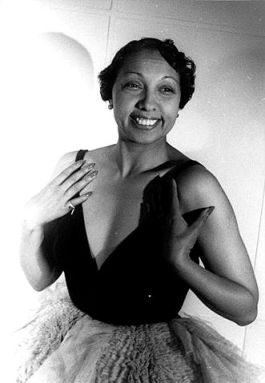 Josephine Baker

by Carl Van Vechten

Biography >> Civil Rights

Occupation: Dancer, Singer, Actor
Born: June 3, 1906 in St. Louis, Missouri
Died: April 12, 1975 in Paris, France
Nicknames: Black Pearl, Jazz Cleopatra, Bronze Venus
Best known for: Being a famous performer in Paris, a World War II spy, and a civil rights activist
Biography:

Where did Josephine Baker grow up?

Josephine Baker was born Freda Josephine McDonald on June 3, 1906 in St. Louis, Missouri. Her father was a vaudeville drummer named Eddie Carson who abandoned Josephine and her mother, Carrie McDonald, at an early age.

With her father gone, Josephine had a difficult childhood. Her mother worked hard as a washerwoman, but the family often went hungry. When Josephine was eight years old, she had to go to work to get to food. She worked as a servant girl in the homes of wealthy people and as a waitress.

Becoming a Dancer

Josephine loved to dance and would sometimes dance on the street corners of the city for money. She soon got a job dancing for local vaudeville shows. She was a talented dancer, actress, and singer. She started getting more important roles and, in 1923, she earned a spot on the Broadway musical Shuffle Along.

Moving to France

In 1925, Josephine decided to take on a new adventure. She moved to Paris, France to star in a show called La Revue Negre. The show was a hit and Josephine decided to make Paris her new home. Her most famous act was a dance that took place during a show called La Folie du Jour. During the dance she wore nothing but a skirt made of bananas.

Being Famous

Over the next ten years, Josephine became one of the biggest stars in Europe. She sung on popular records, danced in shows, and starred in movies. Josephine also became rich. She bought a large home in southern France called the Chateau des Milandes. Later, she would adopt 12 children from a variety of countries that she called her "Rainbow Tribe."

World War II Spy

During World War II, Josephine was recruited to spy for the French Resistance. Because she was a famous celebrity, she was invited to important parties and allowed to travel around Europe without being suspected. She passed on secret messages about the Germans such as troop locations and airfields using invisible ink on her sheet music. After the war, she was awarded the French Croix de guerre (Cross of war) and the Rosette de la Resistance (French Resistance Medal).

Return to the United States

Josephine first tried to return to the United States in 1936 to star in the Ziegfeld Follies. Unfortunately, she received poor reviews and returned to France. However, Josephine returned again in the 1950s. This time she received rave reviews and huge audiences came out to see her.

Civil Rights Activist

When Baker returned to the United States, some clubs wanted her to perform for segregated audiences (where only whites or blacks attended). Josephine strongly disagreed. She refused to perform for segregated audiences. She also spoke out against clubs and hotels that refused black people service.

In 1963, Josephine participated in the March on Washington with Martin Luther King, Jr. She spoke before 250,000 people wearing her uniform of the French Resistance. In her speech she talked about the freedoms she had in France and how she hoped the same freedoms would soon come to the United States.

Death

In 1975, Josephine starred in a show that reviewed her 50 years as a performer in Paris. The show sold out and huge stars including Mick Jagger, Diana Ross, and Sophia Loren attended. A few days after the show opened, on April 12, 1975, Josephine died of a brain hemorrhage.

Interesting Facts about Josephine Baker
She had a variety of exotic pets including a leopard named Chiquita and a chimpanzee named Ethel.
Josephine's adopted children would entertain and sing songs for paying visitors to her house.
The NAACP named May 20th as Josephine Baker Day.
She was asked by Coretta Scott King to become the new leader of the civil rights movement in the United States after Martin Luther King, Jr. died. Baker refused because she didn't want to leave her children.
She was close friends with the famous actress Grace Kelly.
Activities

Take a ten question quiz about this page.


Listen to a recorded reading of this page:





Biography >> Civil Rights