Biography
Mark Twain
Biography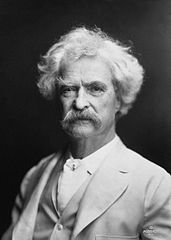 Portrait of Mark Twain
Photo by A. F. Bradley
Occupation: Author
Born: November 30, 1835 in Florida, Missouri
Died: April 21, 1910 in Redding, Connecticut
Best known for: Writing the books The Adventures of Tom Sawyer and The Adventures of Huckleberry Finn
Biography:

Where did Mark Twain grow up?

Samuel Langhorne Clemens was born in Florida, Missouri on November 30, 1835. He would later go by the "pen name" Mark Twain as a writer. Young Samuel grew up in the small town of Hannibal, Missouri with his sister and two brothers.

The town of Hannibal was located right on the Mississippi River and Samuel loved to watch the river boats pass by as a kid. Many of Mark Twain's stories were inspired by his own adventures on the river. Growing up, Samuel dreamt of someday becoming a steamboat pilot.

Early Career

At the age of 11, Samuel's father died. To help the family, Samuel quit school and went to work as an apprentice for a printer. It was here that he learned about writing. Samuel was a funny kid and his writing reflected his personality.

A Steamboat Pilot

Around the age of 21, Samuel decided to pursue his dream. He trained as a pilot on a steamboat. He had to learn all the potential dangers and snags along the lower Mississippi river. It took him two years of hard work and study, but he eventually earned his pilot's license.

Heading West

When the Civil War broke out in 1861, Samuel moved out west. He earned a living writing for newspapers. He soon began writing short stories. His stories were funny and full of adventure. His first real popular story was called "The Celebrated Jumping Frog of Calaveras County."

Where did the name Mark Twain come from?

When he started writing, Samuel took on the pen name Mark Twain. The name comes from a term used on steamboats to signal that the water was 12 feet deep.

Famous Books

Mark Twain wrote a number of books. Some told funny stories from his own travels such as Roughing It and Innocents Abroad. Other popular books include The Prince and the Pauper, A Connecticut Yankee in King Arthur's Court, Life on the Mississippi, and Pudd'nhead Wilson.

Twain's most famous books are the two "river novels" that tell the adventures of young boys on the Mississippi River. The first was The Adventures of Tom Sawyer (1876) and it was followed up by The Adventures of Huckleberry Finn (1885).

Later Life

Twain's love for adventure and risk got him into financial trouble later in life. He invested his earnings into failed businesses and inventions. In order to pay the bills, he traveled around the world giving lectures and speeches. They were very popular and he was eventually able to pay off his debts.

Death

Mark Twain died of a heart attack on April 21, 1910.

Mark Twain Quotes
"It is better to keep your mouth closed and let people think you are a fool than to open it and remove all doubt."
"The best way to cheer yourself up is to try to cheer somebody else up."
"The secret of getting ahead is getting started."
"Get your facts first, then you can distort them as you please."
"Kindness is the language the deaf can hear and the blind can see."
"If you tell the truth, you don't have to remember anything."
Interesting Facts About Mark Twain
Twain married Olivia Langdon in 1870. They had three daughters and one son.
He joined a Confederate militia for two weeks at the start of the Civil War, but quit before he had to fight.
He was a strong supporter of putting an end to slavery. He also supported women's rights and suffrage.
The Adventures of Huckleberry Finn is sometimes referred to as "The Great American Novel."
He claimed to have foreseen his brother's death in a dream a month before his brother died.
Activities
Listen to a recorded reading of this page:
Biography