Middle Ages
Entertainment and Games
History
>>
Middle Ages for Kids
When we think of Medieval times and the Dark Ages we sometimes picture overcast days, damp castles, slaving peasants, and dungeons. However, the people in the Middle Ages loved parties, events, feasts, games, and sports. Just like us, they liked to have a good time.
Fairs, Festivals, and Feasts
People in the Middle Ages didn't have vacation or days off, but they did have lots of festivals which they celebrated by taking the day off. They would have fairs, carnivals, and feasts to celebrate these days. Most of these days were special days on the Christian calendar such as Easter, Christmas, and various Saint's days.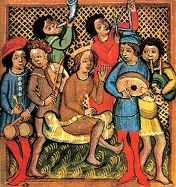 Troubadours
by Unknown
On these days the local villagers would gather together and throw a big party. There would be lots of eating, drinking, music, games, and dancing. Many of the traditions they celebrated would come from their local cultures and were different throughout Europe.
Hunting
The favorite sporting event for the nobility was hunting. Several nobles may gather together for a hunt on the local baron's land. They would ride horses while their trained dogs would hunt down the prey. Even noblewomen liked to hunt. They would use trained birds of prey, like hawks, when hunting.
Music
There was a wide variety of music during the Middle Ages. Many towns had a band that played on feast days. They used a number of different instruments including pipes, drums, fiddles, harps, bagpipes, and even something called a hurdy-gurdy.
Troubadours
One of the most popular forms of entertainment was the troubadour. Troubadours were men who traveled from town to town singing and playing music that told romantic stories about knights and heroes. Many troubadours became quite famous and performed before kings and queens.
Games
People of the Middle Ages enjoyed a variety of games. One popular game among the nobility was chess. Chess came to Europe from Persia in the 9th century. Other games included gambling with dice, blind man's bluff, checkers, horse races, and playing cards.
Sports
There were many athletic events at festivals and other occasions. These included archery, jousting, hammer-throwing, and wrestling. In some areas they played early versions of football (soccer), cricket, bowling, or golf.
Interesting Facts about Entertainment during the Middle Ages
Monks often sung in Medieval churches. They would chant in a single key without any instruments. This type of singing was called plainsong.
Sometimes a troubadour would have an assistant called a jongleur. The jongleur would often add in acrobatics and juggling to the show.
Some of the most popular stories told were about King Arthur and the Knights of the Round Table.
People who dressed up and disguised themselves at festivals were called mummers.
The medieval version of football was called gameball. There were no rules other than there were two teams, two goals, and one ball.
May Day was a festival day to celebrate the arrival of summer. People would dance around maypoles and light huge bonfires. Some towns would crown one girl the Queen of the May.
Take a ten question
quiz
about this page.
More subjects on the Middle Ages:
Works Cited
History
>>
Middle Ages for Kids