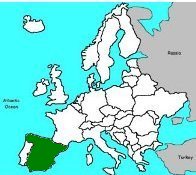 Geography
>>
Europe
>>
Spain History and Timeline
Spain
Capital:
Madrid
Population:
47,042,984
The Geography of Spain
Borders:
Portugal
,
Gibraltar
,
Morocco
,
France
,
Andorra
, Atlantic Ocean, Mediterranean Sea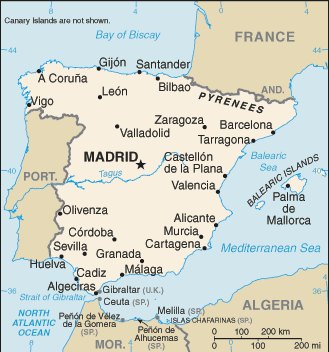 Total Size:
504,782 square km
Size Comparison:
slightly more than twice the size of Oregon
Geographical Coordinates:
40 00 N, 4 00 W
World Region or Continent:
Europe
General Terrain:
large, flat to dissected plateau surrounded by rugged hills; Pyrenees in north
Geographical Low Point:
Atlantic Ocean 0 m
Geographical High Point:
Pico de Teide (Tenerife) on Canary Islands 3,718 m
Climate:
temperate; clear, hot summers in interior, more moderate and cloudy along coast; cloudy, cold winters in interior, partly cloudy and cool along coast
Major Cities:
MADRID (capital) 5.762 million; Barcelona 5.029 million; Valencia 812,000 (2009), Seville, Zaragoza, Malaga
Major Landforms:
Spain is part of the Iberian Peninsula. Major landforms include the Andalusian Plain, Cantabrian Mountains, the Pyrenees, Maseta Central Plateau, Sistema Central Mountains, the Sierra de Guadalupe Mountains, and the Canary Islands.
Major Bodies of Water:
Tagus River, Ebro River, Duero River, Guadalquivir River, Lake Sanabria, Lake Banyoles, Bay of Biscay, Atlantic Ocean, Mediterranean Sea
Famous Places:
Alhambra fortress in Granada, El Escorial, Sagrada Familia, Aqueduct of Segovia, Pamplona, Palacio Real, Costa del sol, Ibiza, Barcelona, Mosque of Cordoba, Plaza Mayor in Madrid, Montserrat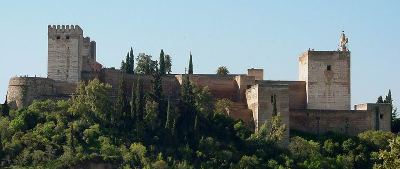 Alhambra fortress
Economy of Spain
Major Industries:
textiles and apparel (including footwear), food and beverages, metals and metal manufactures, chemicals, shipbuilding, automobiles, machine tools, tourism, clay and refractory products, footwear, pharmaceuticals, medical equipment
Agricultural Products:
grain, vegetables, olives, wine grapes, sugar beets, citrus; beef, pork, poultry, dairy products; fish
Natural Resources:
coal, lignite, iron ore, copper, lead, zinc, uranium, tungsten, mercury, pyrites, magnesite, fluorspar, gypsum, sepiolite, kaolin, potash, hydropower, arable land
Major Exports:
machinery, motor vehicles; foodstuffs, pharmaceuticals, medicines, other consumer goods
Major Imports:
machinery and equipment, fuels, chemicals, semifinished goods, foodstuffs, consumer goods, measuring and medical control instruments
Currency:
euro (EUR)
National GDP:
$1,406,000,000,000
Government of Spain
Type of Government:
parliamentary monarchy
Independence:
The Iberian peninsula was characterized by a variety of independent kingdoms prior to the Muslim occupation that began in the early 8th century AD and lasted nearly seven centuries; the small Christian redoubts of the north began the reconquest almost immediately, culminating in the seizure of Granada in 1492; this event completed the unification of several kingdoms and is traditionally considered the forging of present-day Spain.
Divisions:
Spain is divided up into 17 groups called "autonomous communities". There are also two "autonomous cities." They are listed below by area size. The last two, Ceuta and Melilla are the "cities." The largest by population are Andalusia and Catalonia.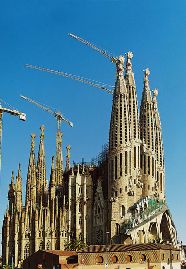 Sagrada Familia
Castile and Leon
Andalusia
Castile-La Mancha
Aragon
Extremadura
Catalonia
Galicia
Valencian Community
Murcia
Asturias
Navarre
Madrid
Canary Islands
Basque Country
Cantabria
La Rioja
Balearic Islands
Ceuta
Melilla
National Anthem or Song:
Himno Nacional Espanol (National Anthem of Spain)
National Symbols:
Animal - Bull
Bird - Spanish Imperial Eagle
Flower - Red carnation
Motto - Further Beyond
Dance - Flamenco
Colors - Yellow and red
Other symbols - Catalan donkey, Spanish coat of arms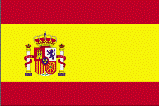 Description of flag:
The flag of Spain was adopted on December 6, 1978. It has three horizontal stripes. The outer two stripes are red and the inner stripe is yellow. The yellow stripe is twice as wide as the red stripes. Within the yellow stripe (and to the left) is the Spanish coat of arms. The flag is called "la Rojigualda."
National Holiday:
National Day, 12 October
Other Holidays:
New Years' Day (January 1), Epiphany (January 6), Maundy Thursday, Good Friday, Labor Day (May 1), Assumption (August 15), National Festival of Spain (October 12), All Saints Day (November 1), Constitution Day (December 6), Immaculate Conception (December 8), Christmas (December 25)
The People of Spain
Languages Spoken:
Castilian Spanish 74%, Catalan 17%, Galician 7%, Basque 2%; note - Castilian is the official language nationwide; the other languages are official regionally
Nationality:
Spaniard(s)
Religions:
Roman Catholic 94%, other 6%
Origin of the name Spain:
The word "Spain" is the English version of the Spanish word for the country "España." The word "España" comes from the Roman name for the region Hispania.
Famous People:
Miguel de Cervantes - Author who wrote Don Quixote
Hernan Cortes - Explorer and conquistador
Penelope Cruz - Actress
Salvador Dali - Artist
Juan Ponce de Leon - Explorer
Hernando de Soto - Explorer
Ferdinand II - King of Aragon
Francisco Franco - Dictator
Pau Gasol - Basketball player
Rita Hayworth - Actress
Julio Iglesias - Singer
Andres Iniesta - Soccer player
Rafael Nadal - Tennis player
Pablo Picasso - Painter
Francisco Pizarro - Explorer
Geography
>>
Europe
>>
Spain History and Timeline
** Source for population (2012 est.) and GDP (2011 est.) is CIA World Factbook.