History
>>
Geography
>>
Asia
>>
Russia
Russia
Timeline and History Overview
Russia Timeline
CE
Brief Overview of the History of Russia
The area that is today the country of Russia has been inhabited by people for thousands of years. The first modern state in Russia was founded in 862 by King Rurik of the Rus, who was made the ruler of Novgorod. Some years later, the Rus conquered the city of Kiev and started the kingdom of the Kievan Rus. Over the 10th and 11th century the Kievan Rus became a powerful empire in Europe reaching its peak under Vladimir the Great and Yaroslav I the Wise. During the 13th century the Mongols led by Batu Khan overran the area and wiped out the Kievan Rus.
In the 14th century the Grand Duchy of Moscow rose to power. It became the head of the Eastern Roman Empire and Ivan IV the Terrible crowned himself the first Tsar of Russia in 1547. Tsar was another name for Caesar as the Russians called their empire the "Third Rome". In 1613, Mikhail Romanov established the Romanov dynasty that would rule Russia for many years. Under the rule of Tsar Peter the Great (1689-1725), the Russian empire continued to expand. It became a major power throughout Europe. Peter the Great moved the capital from Moscow to St. Petersburg. During the 19th century, Russian culture was at its peak. Famous artists and writers such as Dostoyevsky, Tchaikovsky, and Tolstoy became famous throughout the world.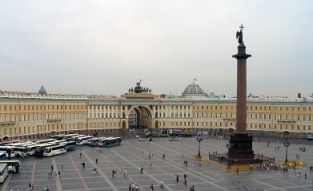 The Palace Square


After World War I, in 1917, the people of Russia fought against the leadership of the Tsars. Vladimir Lenin led the Bolshevik Party in revolution overthrowing the Tsar. Civil war broke out in 1918. Linen's side won and the communist state the Soviet Union was born in 1922. After Lenin died in 1924, Joseph Stalin seized power. Under Stalin, millions of people died in famines and executions.
During World War II, Russia initially allied with the Germans. However, the Germans invaded Russia in 1941. Over 20 million Russians died in World War II including over 2 million Jewish people who were killed as part of the Holocaust.
In 1949, the Soviet Union developed nuclear weapons. An arms race developed between Russia and the United States in what was called the Cold War. The Soviet economy suffered under communism and isolationism. In 1991, the Soviet Union collapsed and many of its member nations declared independence. The remaining area became the country of Russia.
More Timelines for World Countries:
History
>>
Geography
>>
Asia
>>
Russia