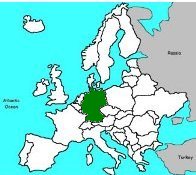 Geography
>>
Europe
>>
Germany History and Timeline
Germany
Capital:
Berlin
Population:
81,305,856
The Geography of Germany
Borders:
Denmark
,
Poland
,
Czech Republic
,
Austria
,
Switzerland
,
France
,
Belgium
,
Luxembourg
, the
Netherlands
, North Sea, Baltic Sea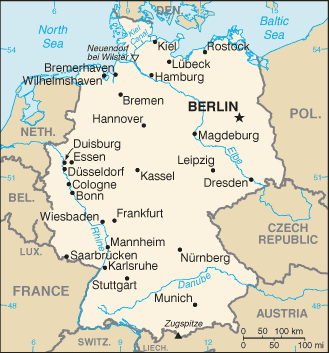 Total Size:
357,021 square km
Size Comparison:
slightly smaller than Montana
Geographical Coordinates:
51 00 N, 9 00 E
World Region or Continent:
Europe
General Terrain:
lowlands in north, uplands in center, Bavarian Alps in south
Geographical Low Point:
Neuendorf bei Wilster -3.54 m
Geographical High Point:
Zugspitze 2,963 m
Climate:
temperate and marine; cool, cloudy, wet winters and summers; occasional warm mountain (foehn) wind
Major Cities:
BERLIN (capital) 3.438 million; Hamburg 1.786 million; Munich 1.349 million; Cologne 1.001 million (2009), Frankfurt, Stuttgart, Dusseldorf
Major Landforms:
Alps, North European Plain, Rhine Valley, Ore Mountains, Palatine Forest, Vogelsberg Mountains, the Spreewald, Black Forest
Major Bodies of Water:
Rhine River, Danube River, Elbe River, Main River, Saale River, Muritz Lake, Lake Constance, North Sea, Baltic Sea
Famous Places:
Brandenburg Gate in Berlin, Berlin Wall, Reichstag building, Neuschwanstein Castle in Bavaria, Cologne Cathedral, Rugen Cliffs, Romantic Rhine, Frauenkirche (Church of Our Lady in Dresden), Oktoberfest in Munich, Heidelberg Old City, the Black Forest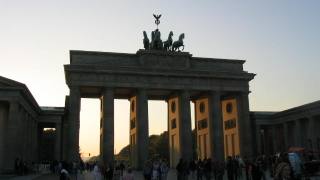 Brandenburg Gate
Economy of Germany
Major Industries:
among the world's largest and most technologically advanced producers of iron, steel, coal, cement, chemicals, machinery, vehicles, machine tools, electronics, food and beverages, shipbuilding, textiles
Agricultural Products:
potatoes, wheat, barley, sugar beets, fruit, cabbages; cattle, pigs, poultry
Natural Resources:
coal, lignite, natural gas, iron ore, copper, nickel, uranium, potash, salt, construction materials, timber, arable land
Major Exports:
machinery, vehicles, chemicals, metals and manufactures, foodstuffs, textiles
Major Imports:
machinery, vehicles, chemicals, foodstuffs, textiles, metals
Currency:
euro (EUR)
National GDP:
$3,114,000,000,000
Government of Germany
Type of Government:
federal republic
Independence:
18 January 1871 (German Empire unification); divided into four zones of occupation (UK, US, USSR, and later, France) in 1945 following World War II; Federal Republic of Germany (FRG or West Germany) proclaimed 23 May 1949 and included the former UK, US, and French zones; German Democratic Republic (GDR or East Germany) proclaimed 7 October 1949 and included the former USSR zone; unification of West Germany and East Germany took place 3 October 1990; all four powers formally relinquished rights 15 March 1991.
Divisions:
Germany is divided into sixteen states. See the map below for the location and names of the states. The largest states by population are North Rhine-Westphalia, Bavaria, and Braden-Wurttemberg. Some of the states are city-states such as Berlin and Hamburg.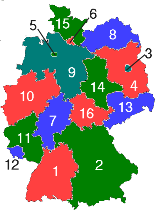 Baden-Wurttemberg
Bavaria
Berlin
Brandenburg
Bremen
Hamburg
Hesse
Mecklenburg-Vorpommern
Lower Saxony
North Rhine-Westphalia
Rhineland-Palatinate
Saarland
Saxony
Saxony-Anhalt
Schleswig-Holstein
Thuringia
National Anthem or Song:
Lied der Deutschen (Song of the Germans)
National Symbols:
Animal - German Shepherd dog
Bird - Golden Eagle (official animal)
Tree - Oak tree
Colors - Black, red, and gold
Motto - Unity and justice and freedom
Coat of Arms - A black eagle on a yellow shield
Other Symbols - Brandenburg Gate is the symbol of reunification, Freedom Bell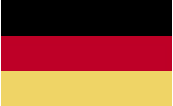 Description of flag:
The German flag was adopted on May 23, 1949. It has three equally wide horizontal stripes of black (top), red (middle), and gold (bottom). The black represents determination, the red represents bravery and strength, the gold represents generosity.
National Holiday:
Unity Day, 3 October (1990)
Other Holidays:
New Years' Day (January 1), Good Friday, Labor Day (May 1), Ascension Day, Whit Monday, German Unity Day (October 3), Christmas Day (December 25), Boxing Day (December 26), Oktoberfest is a festival held in Bavaria that lasts 16 days from late September to the first weekend in October.
The People of Germany
Languages Spoken:
German
Nationality:
German(s)
Religions:
Protestant 34%, Roman Catholic 34%, Muslim 3.7%, unaffiliated or other 28.3%
Origin of the name Germany:
The name "Germany" comes from the Latin word Germania. It was first used by the Gauls and then later by the Romans and Julius Caesar. The Germans call their country Deutschland.
Famous People:
Johann Bach - Classical music composer
Red Baron - WWI fighter pilot
Ludwig van Beethoven - Classical music composer
Pope Benedict XVI - Religious leader
Nicolaus Copernicus - Astronomer who said the Earth rotated around the Sun
Albrecht Durer - Artist and painter
Albert Einstein - Physicist who came up with the Theory of Relativity
Anne Frank - Writer and Holocaust victim
Steffi Graf - Tennis player
Grimm Brothers - Writers of fairy tales
Johannes Gutenberg - Inventor of the printing press
Adolf Hitler - Fascist dictator of Nazi Germany
Kaiser Wilhelm - Last emperor of Germany
Heidi Klum - Model
Martin Luther - Leader of the Protestant Reformation
Karl Marx - Philosopher and pioneer of communism
Angela Merkel - Chancellor of Germany
Levi Strauss - Entrepreneur who made blue jeans
Wernher von Braun - Rocket scientist
Bruce Willis - Actor
Katarina Witt - Figure skater
Geography
>>
Europe
>>
Germany History and Timeline
** Source for population (2012 est.) and GDP (2011 est.) is CIA World Factbook.