| | |
| --- | --- |
| United Kingdom | |
Capital: London

Population: 63,047,162

Brief History of United Kingdom:
The United Kingdom is an island nation located in the Atlantic Ocean just off the coast of France. It is actually a union of four countries including England, Northern Ireland, Scotland, and Wales.

The islands that are today the United Kingdom were invaded by the Romans in 55 BC. This brought the local islanders into contact with the rest of Europe. After the Roman Empire weakened, the islands were invaded by the Saxons, the Vikings, and finally the Normans.

The English conquered Wales in 1282 under Edward I. In order to make the Welsh happy, the king's son was made the Prince of Wales. The two countries became unified in 1536. Scotland became part of the British crown in 1603 when the king of Scotland became the King James I of England. The union became official in 1707. Ireland became a part of the union in 1801. However, many of the Irish rebelled and, in 1921, the southern part of Ireland was made a separate country and an Irish free state.

In the 1500s Britain began to expand its empire into much of the world. After defeating the Spanish Armada in 1588, England became the world's dominant sea power. Britain first grew into the Far East and India and then to the Americas. In the early 1800s the UK defeated France in the Napoleonic Wars and became the supreme European power.

In the 1900s, the United Kingdom became less of a dominant world power. It continued to lose control over colonies and was weakened by World War I. However, under the leadership of Winston Churchill, the United Kingdom was the last western European nation to oppose Germany in World War II and played a major role in defeating Hitler.

The United Kingdom played a major role in the history of the world, taking a leading role in developing democracy and in advancing literature and science. At its peak in the 19th century, the British Empire covered over one-fourth of the surface of the earth.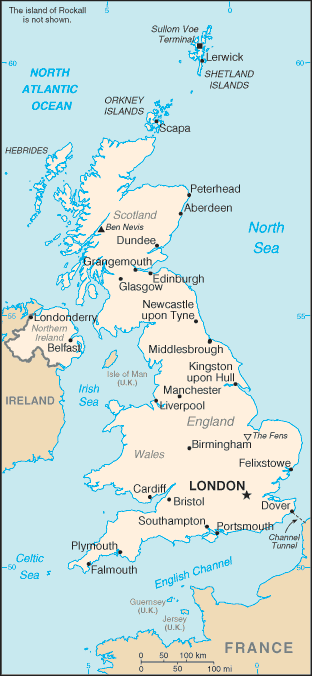 The Geography of United Kingdom
Total Size: 244,820 square km

Size Comparison: slightly smaller than Oregon

Geographical Coordinates: 54 00 N, 2 00 W

World Region or Continent: Europe

General Terrain: mostly rugged hills and low mountains; level to rolling plains in east and southeast

Geographical Low Point: The Fens -4 m

Geographical High Point: Ben Nevis 1,343 m

Climate: temperate; moderated by prevailing southwest winds over the North Atlantic Current; more than one-half of the days are overcast

Major cities: LONDON (capital) 8.615 million; Birmingham 2.296 million; Manchester 2.247 million; West Yorkshire 1.541 million; Glasgow 1.166 million (2009)


The People of United Kingdom
Type of Government: constitutional monarchy

Languages Spoken: English, Welsh (about 26% of the population of Wales), Scottish form of Gaelic (about 60,000 in Scotland)

Independence: England has existed as a unified entity since the 10th century; the union between England and Wales, begun in 1284 with the Statute of Rhuddlan, was not formalized until 1536 with an Act of Union; in another Act of Union in 1707, England and Scotland agreed to permanently join as Great Britain; the legislative union of Great Britain and Ireland was implemented in 1801, with the adoption of the name the United Kingdom of Great Britain and Ireland; the Anglo-Irish treaty of 1921 formalized a partition of Ireland; six northern Irish counties remained part of the United Kingdom as Northern Ireland and the current name of the country, the United Kingdom of Great Britain and Northern Ireland, was adopted in 1927

National Holiday: the UK does not celebrate one particular national holiday

Nationality: Briton(s), British (collective plural)

Religions: Christian (Anglican, Roman Catholic, Presbyterian, Methodist) 71.6%, Muslim 2.7%, Hindu 1%, other 1.6%, unspecified or none 23.1% (2001 census)

National Symbol: lion (Britain in general); lion (England); lion, unicorn (Scotland); dragon (Wales); harp (Northern Ireland)

National Anthem or Song: God Save the Queen


Economy of United Kingdom
Major Industries: machine tools, electric power equipment, automation equipment, railroad equipment, shipbuilding, aircraft, motor vehicles and parts, electronics and communications equipment, metals, chemicals, coal, petroleum, paper and paper products, food processing, textiles, clothing, other consumer goods

Agricultural Products: cereals, oilseed, potatoes, vegetables; cattle, sheep, poultry; fish

Natural Resources: coal, petroleum, natural gas, iron ore, lead, zinc, gold, tin, limestone, salt, clay, chalk, gypsum, potash, silica sand, slate, arable land

Major Exports: manufactured goods, fuels, chemicals; food, beverages, tobacco

Major Imports: manufactured goods, machinery, fuels; foodstuffs

Currency: British pound (GBP)

National GDP: $2,288,000,000,000




** Source for population (2012 est.) and GDP (2011 est.) is CIA World Factbook.



Back to Geography Home Page

TD>
Kid's Poll
Vote for your favorite US President:
advertisement

advertisement