| | |
| --- | --- |
| Trinidad and Tobago | |
Capital:
Port-of-Spain
Population:
1,226,383
Brief History of Trinidad and Tobago:
Trinidad and Tobago is an island nation in the Caribbean Sea just off the coast of Venezuela. The original settlers to the islands were the Native American Arawak and Carib tribes. When Europeans arrived, the locals were nearly wiped out by disease.
The first European to arrive at Trinidad was Christopher Columbus in 1948. He named the island and 100 years later the Spanish came and settled the area. The English took possession of Trinidad in 1797, but Tobago changes hands numerous times between the French, English, and Dutch before the English finally took made it a colony in 1803.
Trinidad and Tobago became a republic in 1976. The people there speak mostly English and are primarily of African or East Indian descent.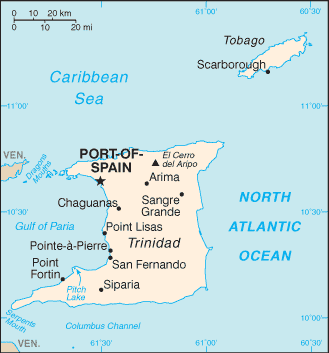 The Geography of Trinidad and Tobago
Total Size:
5,128 square km
Size Comparison:
slightly smaller than Delaware
Geographical Coordinates:
11 00 N, 61 00 W
World Region or Continent:
Central America
General Terrain:
mostly plains with some hills and low mountains
Geographical Low Point:
Caribbean Sea 0 m
Geographical High Point:
El Cerro del Aripo 940 m
Climate:
tropical; rainy season (June to December)
Major cities:
PORT-OF-SPAIN (capital) 57,000 (2009)
The People of Trinidad and Tobago
Type of Government:
parliamentary democracy
Languages Spoken:
English (official), Hindi, French, Spanish, Chinese
Independence:
31 August 1962 (from UK)
National Holiday:
Independence Day, 31 August (1962)
Nationality:
Trinidadian(s), Tobagonian(s)
Religions:
Roman Catholic 26%, Hindu 22.5%, Anglican 7.8%, Baptist 7.2%, Pentecostal 6.8%, other Christian 5.8%, Muslim 5.8%, Seventh Day Adventist 4%, other 10.8%, unspecified 1.4%, none 1.9% (2000 census)
National Symbol:
scarlet ibis (bird of Trinidad); cocrico (bird of Tobago)
National Anthem or Song:
Forged From the Love of Liberty
Economy of Trinidad and Tobago
Major Industries:
petroleum, chemicals, tourism, food processing, cement, beverage, cotton textiles
Agricultural Products:
cocoa, rice, citrus, coffee, vegetables; poultry
Natural Resources:
petroleum, natural gas, asphalt
Major Exports:
petroleum and petroleum products, chemicals, steel products, fertilizer, sugar, cocoa, coffee, citrus, flowers
Major Imports:
machinery, transportation equipment, manufactured goods, food, live animals
Currency:
Trinidad and Tobago dollar (TTD)
National GDP:
$26,490,000,000
** Source for population (2012 est.) and GDP (2011 est.) is CIA World Factbook.
Back to Geography Home Page
TD>