| | |
| --- | --- |
| Israel | |
Capital: Jerusalem; note - Israel proclaimed Jerusalem as its capital in 1950, but the US, like nearly all ot

Population: 7,590,758

Brief History of Israel:
The land which is today the country of Israel has been sacred to the Jewish people for thousands of years. Today the land is also sacred to other religions such as Christianity. In 2000 BC the Jewish Patriarch Abraham was promised the land of Israel by God. Abraham's descendents would become the Jewish people and the Kingdom of Israel would emerge around 1000 BC with the great kings such as King David and Solomon.

Over the next 1000 plus years various empires would take control of the land. These included the Assyrian, Babylonian, Persian, Greek, Roman, and Byzantine Empires.

In the 7th century the land was taken over by the Muslims. Later, the land would change hands a few times until the Ottoman Empire took control in 1516. The Ottoman Empire would rule until the 1900s.

During the rule of the Arabs and the Ottoman Empire, the Jewish nation had dispersed throughout the world. Many millions lived in European countries. During World War II, Nazi Germany had hoped to exterminate the Jewish people through the Holocaust. Millions of Jewish people were executed and killed in concentration camps.

After the end of World War II the United Nations divided up Israel between Arab and Jewish states. The Arabs rejected this division. On May 14, 1948 the Jewish people in the area proclaimed independence, naming their country Israel. Egypt, Iraq, Syria, and Lebanon immediately attacked and the 1948 Arab-Israeli War began. After a year of fighting a ceasefire was declared and temporary borders were established.

Hostilities continued between the Arabs and the Israelis in a series of wars including the Yom Kippur War in 1973. Today the tensions and hostility still exists between the two.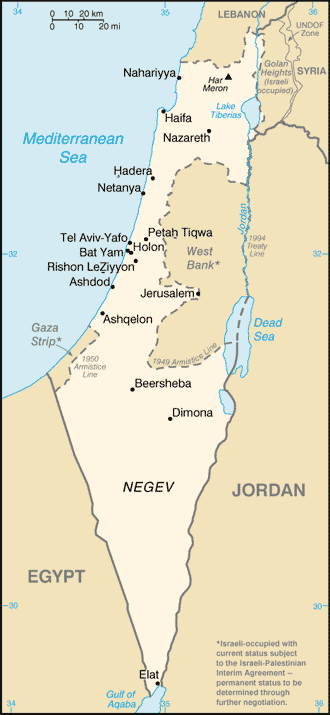 The Geography of Israel
Total Size: 20,770 square km

Size Comparison: slightly smaller than New Jersey

Geographical Coordinates: 31 30 N, 34 45 E

World Region or Continent: Middle East

General Terrain: Negev desert in the south; low coastal plain; central mountains; Jordan Rift Valley

Geographical Low Point: Dead Sea -408 m

Geographical High Point: Har Meron 1,208 m

Climate: temperate; hot and dry in southern and eastern desert areas

Major cities: Tel Aviv-Yafo 3.219 million; Haifa 1.027 million; JERUSALEM (capital) 768,000 (2009), Rishon LeZion


The People of Israel
Type of Government: parliamentary democracy

Languages Spoken: Hebrew (official), Arabic used officially for Arab minority, English most commonly used foreign language

Independence: 14 May 1948 (from League of Nations mandate under British administration)

National Holiday: Independence Day, 14 May (1948); note - Israel declared independence on 14 May 1948, but the Jewish calendar is lunar and the holiday may occur in April or May

Nationality: Israeli(s)

Religions: Jewish 76.4%, Muslim 16%, Arab Christians 1.7%, other Christian 0.4%, Druze 1.6%, unspecified 3.9% (2004)

National Symbol: Star of David

National Anthem or Song: Hatikvah (The Hope)


Economy of Israel
Major Industries: high-technology projects (including aviation, communications, computer-aided design and manufactures, medical electronics, fiber optics), wood and paper products, potash and phosphates, food, beverages, and tobacco, caustic soda, cement, construction, metals products, chemical products, plastics, diamond cutting, textiles, footwear

Agricultural Products: citrus, vegetables, cotton; beef, poultry, dairy products

Natural Resources: timber, potash, copper ore, natural gas, phosphate rock, magnesium bromide, clays, sand

Major Exports: machinery and equipment, software, cut diamonds, agricultural products, chemicals, textiles and apparel

Major Imports: raw materials, military equipment, investment goods, rough diamonds, fuels, grain, consumer goods

Currency: new Israeli shekel (ILS); note - NIS is the currency abbreviation; ILS is the International Organiza

National GDP: $237,000,000,000




** Source for population (2012 est.) and GDP (2011 est.) is CIA World Factbook.



Back to Geography Home Page

TD>
Kid's Poll
Vote for your favorite US President: