| | |
| --- | --- |
| Isle of Man | |
Capital:
Douglas
Population:
85,421
Brief History of Isle of Man:
The Isle of Man is located in the Irish Sea between Ireland and England. It has a long history of being inhabited all the way back to 6500 BC. It was influenced by the Gaelics starting in the 400s AD when the Manx language came in existence. Later, in the 9th century, Norwegians began to settle on the Island.
The island was part of Scotland and England over the years. Today it is considered a British crown dependency, but is not part of the UK or of the European Union. However, the UK Government remains responsible for its defense and foreign affairs.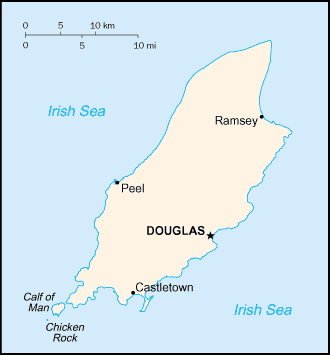 The Geography of Isle of Man
Total Size:
572 square km
Size Comparison:
slightly more than three times the size of Washington, DC
Geographical Coordinates:
54 15 N, 4 30 W
World Region or Continent:
Europe
General Terrain:
hills in north and south bisected by central valley
Geographical Low Point:
Irish Sea 0 m
Geographical High Point:
Snaefell 621 m
Climate:
temperate; cool summers and mild winters; overcast about one-third of the time
Major cities:
DOUGLAS (capital) 26,000 (2009)
The People of Isle of Man
Type of Government:
parliamentary democracy
Languages Spoken:
English, Manx Gaelic
Independence:
none (British crown dependency)
National Holiday:
Tynwald Day, 5 July
Nationality:
Manxman (men), Manxwoman (women)
Religions:
Anglican, Roman Catholic, Methodist, Baptist, Presbyterian, Society of Friends
National Symbol:
triskelion (a motif of three legs)
National Anthem or Song:
Arrane Ashoonagh dy Vannin (O Land of Our Birth)
Economy of Isle of Man
Major Industries:
financial services, light manufacturing, tourism
Agricultural Products:
cereals, vegetables; cattle, sheep, pigs, poultry
Natural Resources:
none
Major Exports:
tweeds, herring, processed shellfish, beef, lamb
Major Imports:
timber, fertilizers, fish
Currency:
British pound (GBP); note - there is also a Manx pound
National GDP:
$2,719,000,000
** Source for population (2012 est.) and GDP (2011 est.) is CIA World Factbook.
Back to Geography Home Page
TD>