| | |
| --- | --- |
| Faroe Islands | |
Capital:
Torshavn
Population:
49,483
Brief History of Faroe Islands:
The original inhabitants of the Faroe Islands were Vikings who arrived in the 9th century. Originally the Faroe Islands were aligned with Norway and became part of the Danish Crown when in 1380 when Norway, Finland, and Sweden all united with Denmark. Later, when Sweden, Finland, and Norway left the Danish Crown, the Faroe Islands stayed a member and still are today. In 1948, the Faroese were given control of most of their internal government and affairs. Denmark is responsible for defense and foreign affairs.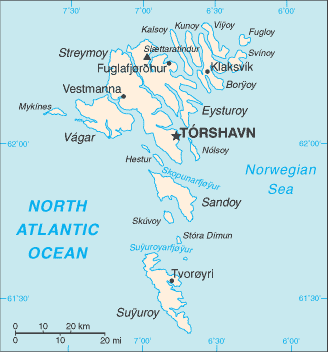 The Geography of Faroe Islands
Total Size:
1,399 square km
Size Comparison:
eight times the size of Washington, DC
Geographical Coordinates:
62 00 N, 7 00 W
World Region or Continent:
Europe
General Terrain:
rugged, rocky, some low peaks; cliffs along most of coast
Geographical Low Point:
Atlantic Ocean 0 m
Geographical High Point:
Slaettaratindur 882 m
Climate:
mild winters, cool summers; usually overcast; foggy, windy
Major cities:
The People of Faroe Islands
Type of Government:
NA
Languages Spoken:
Faroese (derived from Old Norse), Danish
Independence:
none (part of the Kingdom of Denmark; self-governing overseas administrative division of Denmark)
National Holiday:
Olaifest (Olavasoka), 29 July
Nationality:
Faroese (singular and plural)
Religions:
Evangelical Lutheran
National Symbol:
ram
National Anthem or Song:
Mitt alfagra land (My Fairest Land)
Economy of Faroe Islands
Major Industries:
fishing, fish processing, small ship repair and refurbishment, handicrafts
Agricultural Products:
milk, potatoes, vegetables; sheep; salmon, other fish
Natural Resources:
fish, whales, hydropower, possible oil and gas
Major Exports:
fish and fish products 94%, stamps, ships (1999)
Major Imports:
consumer goods 36%, raw materials and semi-manufactures 32%, machinery and transport equipment 29%, fuels, fish, salt (1999)
Currency:
Danish krone (DKK)
National GDP:
$1,471,000,000
** Source for population (2012 est.) and GDP (2011 est.) is CIA World Factbook.
Back to Geography Home Page
TD>